'Tiny' Not So Tiny! Another HUGE Dog!!
Thursday, July 12th, 2007 at 9:15 am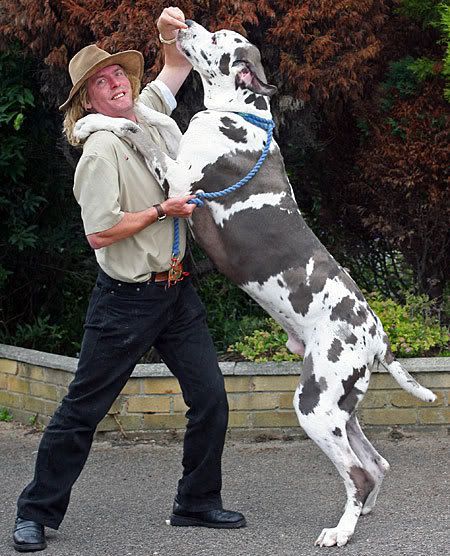 Yesterday I did a story on Samson – Now this is one HUGE dog! Now here's Tiny who tops out at 7'3″ on his hind legs, 8″ taller than Samson! He weighs in at about100 kg or just under 240 lb.
Tiny is pure Great Dane and towers over his 6'1″ owner, Iain Newby.
Mr Newby, 40, said: 'I've never seen a bigger dog than Tiny. He's got 40in legs. I'm a 32in leg. He's bigger than some horses in the fields we walk past.

'It's funny when we are out walking and someone turns round, and almost jumps out of their skin.

I get some funny looks when I'm calling him back to me, people look as if to say, 'Tiny?'

'We used to have a dining room but now we have a Tiny room. He sleeps on a sofa.'

Tiny, found at a rescue centre, lives with Mr Newby, wife Lisa, 34, and sons Jack, three, Harry, two, and one-year-old Bryce in Great Wakering, Essex.

They have four other dogs and a range of exotic animals, all rescued. (Metro)
Email This Post
Like this post? Subscribe to my RSS feed and get loads more!