Unusual – Double Nose Andean Tiger Hound
Friday, August 10th, 2007 at 10:53 am
I don't normally do 'unusual' but this was just too intriguing to pass up and not to pass along!

What you see in these two pictures is a Double Nosed Andean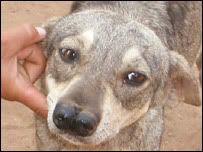 Tiger Hound named Bella. This is a rare breed is thought to be descended from a breed with double noses that's known in Spain as Pachon Navarro, which were hunting dogs at the time of the Conquistadors.
Bella was discovered in Bolivia in 2005 by a Colonel Blashford-Snell when he was carrying out reconnaissance for an expedition in the area near Ojaki. Sadly Bella has passed on but she did have a litter of puppies after mating with a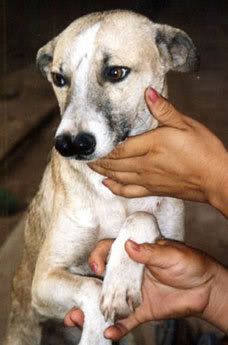 male, who was not double-nosed. She produced 4 puppies, only one surviving, a male christened Xingu, named after the lost city being hunted down by the intrepid explorer Colonel Percy Fawcett – the man who first documented the existence of the double-nosed dogs – when he mysteriously disappeared.
This is Xingu in 2006. He also mated, with a single nose bitch and produced for puppies, two normal and two with the double nose but the double nosed pups died after three days.
These dogs are purported to have a highly enhanced sense of smell, which might be expected.
The dog's DNA has been sampled by the Bolivian Army due to their interest in the breed. Xingu is not the only dog of this breed around, there actually are other reported to be in the area.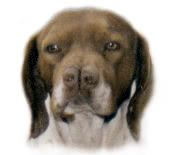 And oddly enough, this is not the only breed of dog with a 'double' or 'split' nose. There's also the Turkish Pointer, Turkey's only native pointing breed, called çatalburun by the Turkish people because of the breed's nose structure. The term "çatal" means fork and "burun" means nose.
These dogs are not known out side the Tarsus area and no breeding research have been carried out. The only research that was done on this subject as a project, is between the years 2001-2002 by high school students in Tarsus to participate in a competition opened up by a scientific research institution.
So, just your interesting bit of 'dog' trivia for the week. 🙂
Email This Post
Like this post? Subscribe to my RSS feed and get loads more!