Walt Disney Pictures Announces Open Contest to Have Your Dog Featured in Underdog
Monday, May 14th, 2007 at 4:45 pm
Winners Get Chance to Appear in Disney's UNDERDOG and Attend the World Premiere With Their Dogs
Does your dog have superhuman powers like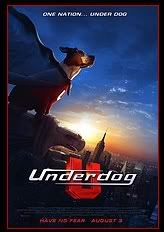 Underdog? Is he super cute? Is she super tricky? If so, enter them in the "Underdog Super Pet Contest" on Disney.com and you can win a trip to the world premiere with your dog, and have them appear in Walt Disney Pictures' movie Underdog, in theaters August 3.
To enter, go to www.disney.com/UnderdogContest and submit a video or photo of your dog doing something super – from looking super sharp to attempting a super trick or feat. The contest began on May 10 and will end on June 1, when ten videos and ten images will be chosen as finalists by the filmmakers on the basis of super creativity and uniqueness.
Movie fans everywhere will have the opportunity to visit the contest site and vote for the finalists between June 8-14, with the top two most popular recipients in each category winning a trip to the Underdog world premiere in Los Angeles, CA.
In addition to a trip to the world premiere, an unlimited number of entries will appear in the film's end credits, allowing selected participants to see his or her dog in a movie theater on the big screen.
"It's a special opportunity to give the public a chance to own a piece of the film. This contest with Disney.com takes advantage of what the Internet has to offer – it empowers families to submit user-generated content that can be part of a collective shared experience," said Jim Gallagher, President of Marketing at Walt Disney Studios Marketing. "There's no better payoff than to be surprised at the end of the movie and see your favorite four-legged friend on the big screen.
Read the entire Press Release
Email This Post
Like this post? Subscribe to my RSS feed and get loads more!