Woman Adopts Dog Only to Wound up with 14!
Thursday, January 31st, 2008 at 7:34 am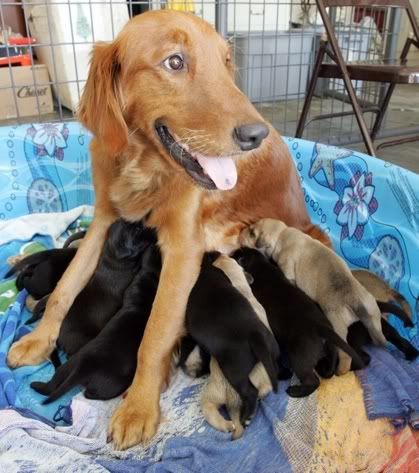 Helen Bogus of Sebring, FL, was happy in December when she adopted Kelly from the Highland County Humane Society, but then she thought she was just adopting one dog. Little did she know that her one dog would turn into 14 in just a month!
Even when the vet told Bogus that Kelly was pregnant, she still had no clue what she was getting into. Golden retrievers normally have litters of 6-8 puppies so on January 14th when the final total was 13 puppies, needless to say, Bogus was surprised.
When Jan. 14 came, however, Bogus and Highlands County Humane Society board member Barbara Clark spent all night with the golden retriever/Irish setter mix-breed and several kids in the neighborhood as they helped with Kelly's labor.

"We just wanted Kelly," Bogus said. "We really just wanted one dog but we ended up with 14."

Kelly gave birth to six black puppies, six with light brown fur and another black puppy with a light brown muzzle. Bogus and Clark believe Kelly's pups have more than one father.

Kelly was given to the Highlands County Humane Society after someone found her as a stray in Avon Park, Clark said. Nobody at the society realized Kelly was pregnant when Bogus adopted her.

Bogus said she took her to a dog sitter after adopting Kelly while she visited her family in Colorado.

The dog sitter told Bogus that Kelly was putting on weight, and when she went for an appointment to the vet, Anderson determined Kelly put on nine pounds. The dog sitter already suspected Kelly was pregnant and suggested that Bogus should see the vet.

The vet confirmed it just as he was getting ready to spay Kelly. After that, Clark said she told Bogus that she can return the dog, but Bogus went ahead and let Kelly give birth to them.

Bogus even let several of the kids around the neighborhood come to her bedroom, where Kelly went into labor. Kelly gave birth to her first puppy just before midnight on Jan. 14, and Kelly continued putting them out until 5:30 that morning. Bogus said one of the kids watching the birth had a birthday the 14th, so she named the first puppy "Jessie" after her. The second pup was named "Kendall," after another girl watching over Kelly. Kendall's birthday was Jan. 15.

"The children in the neighborhood have been real helpful," Bogus said. She never dealt with a pregnant dog before, and after watching Clark work with Kelly all night, Bogus took the last puppy after Clark left her house.

The kids come to Bogus' garage after school every day to play with the puppies, who were named after everyone who helped Bogus with Kelly's labor Jan. 14. Bogus said some of them have tried talking their parents into adopting them, but she wanted to get the puppies weaned before she would consider giving up any of them. (Highlands Today)
Email This Post
Like this post? Subscribe to my RSS feed and get loads more!