Justice Round-Up – 8/25/09
Tuesday, August 25th, 2009 at 7:22 am
Welcome to FTLTD's first "Justice Round-Up."  We'll be covering a number of cases and letting you know where they're at and what's happening with them now.
Joseph Waters, Murphy
Back in December 2008, Joseph Waters beat his dog, Murphy, within inches of his life with a sledgehammer. Read the original story from background HERE.
On August 11 2009, Waters appeared in court for a pre-trial hearing. Waters has until August 24 to mull the district attorney's offer of a five-year sentence, with two to be served in prison. The offer also includes a $5,000 fine that will be directed to the Atlanta Humane Society. If not, a trial date will be set for sometime in September. If he is convicted of the three felony animal cruelty charges he faces, Waters could end up serving five years in prison and paying $15,000 in fines.
He had all sorts of excuses…"my wife poisoned the dog so I thought I'd euthanize him"…"I wasn't taking my thyroid medicine"…"I didn't get any sleep". Fortunately Judge Cynthia J. Becker was not buying one single word of it. When Waters interrupted the hearing with more excuses, the Judge smacked him down stating she would give him worse than the prosecutor was offering.
As of yesterday it's been confirmed that Waters rejected the plea offer and will be heading to trial next week
Meanwhile, Murphy continues to live as a foster with Robert Kennedy. Look at this proud, happy boy now!
Christine Abrams, Ella
Ah yes, one of my favorites – Christine Abrams and the starving death of her White GSD, Ella. Read all Deanna's articles about her HERE
Yes, Abrams went to jail. And was released early on her *good behavior*. But she couldn't leave it alone. Back in July, defense lawyer Andrew Stine urged the appellate court to throw out an earlier ruling by Brevard County Judge Kelly McKibben that police did not violate Christine Abrams' Fourth Amendment rights. It was during that March 2008 search that police found the decomposing remains of Abrams' 1-year-old German shepherd, Ella, locked in a cage. Stine said his client had an "expectation of privacy" at her home. He said Abrams continued to fight the case on behalf of homeowners who should be protected against illegal searches.
Guess what? DENIED. An appellate panel upheld the lower court ruling that police who had no warrant did not violate Christine Abrams' civil rights. The ruling means Abrams will not be granted a new trial and must complete the remainder of her probation, which also requires her to pay court fines and do community service.
The full report can be found here at FloridaToday.com
And, by the way, Christine Abrams did donate her house to Catholic Charities. It was bulldozed to the ground.
Marc Dash
The man who kicked his girlfriend's dog because he was "eyeballing" him. Here is Deanna's original article HERE
Very disappointing outcome. Dash was originally charged with felony aggravated cruelty to animals. But he managed quite the plea deal. He pleaded guilty to disorderly conduct and agreed to pay more than $2,100 in restitution to his former girlfriend in town court. He paid his former girlfriend $1,671 in cash, leaving him 60 days to pay the remaining $463. Dash will also undergo anger management classes and be subjected to a mental health evaluation, but will not face any criminal charges. Flynn also issued an order of protection barring Dash from contact with the former girlfriend for three years.
Read about it at the Niagara Gazette
Zackary Scott Ruszka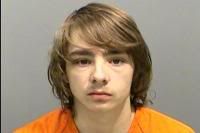 He got drunky on whisky and killed a small dog with a bow and arrow. You can find the background HERE
Was sentenced to 28 days in jail, plus two years of probation. He was also was ordered to attend one Alcoholics Anonymous meeting every week for two years, complete mental health and substance abuse evaluations and treatment, and undergo treatment for animal abuse.
Reported here at the Denver Post.
Christopher W. Tann
The two-timing tough guy. Beats his girlfriends dog and then brags about it to another woman he was seeing behind her back. Read Deanna's original article HERE.
As part of a plea deal, Christopher Tann pleaded guilty to two misdemeanor counts of injury to a domestic animal. Johnson County Judge Sara Welch placed Tann on probation for two years with an underlying two-year sentence if he fails probation. He must serve 60 days in jail first. His sentence also requires him to get a psychological evaluation, complete an anger management program and serve 200 hours of community service.
Prosecutors originally charged Tann with felony animal abuse, but the judge ruled that the Kansas felony law (Scruffy's Law) was worded too much like the misdemeanor law and that Welch had to be sentenced under it.
More here at the Kansas City Star
*************************
Thanks for the updates Andrea. We can hope that Waters gets the max sentence now that he turned down a pleas deal that could have given him a break. Tied of every abuser pleading out and getting a break anyway! What kind of a break to they give those they abuse except for broken bones and a broken spirit, that's if they're lucky enough to still have their life which many aren't!
As for Christine Abrams, that bitch should be rotting in jail still!  But I guess we have to be happy for what we can get and at least be satisfied that she and that idiot lawyer of hers got slapped down.. again!
As for Dash, Ruszka and Tann, sadly this is the level of "justice" we have grown to expect from our justice system, the usual "slap on the wrist" punishment! Dogs, beaten, brutalized, killed and their abusers get little to no jail time and back on the streets again to inflict their cruelties on other victims.
You can bet that most, if not all these wastes of human life will be facing the system again and no surprise if their crimes are even more violent.  It's a well known fact that animal abuse is often just the precursor to more vicious and violent crimes.  If the judicial system would actually take that into account when these abusers first hit the system, maybe many future crimes would be prevented but no, all we usually see is more of the "its just a dog" or cat or animal mentality and back on the streets these abusers go.  And who is to blame when the crimes are no longer against "just a dog?"
Email This Post
Like this post? Subscribe to my RSS feed and get loads more!