Loss Hits Too Close to Home – On a Personal Note
Saturday, September 1st, 2007 at 12:41 pm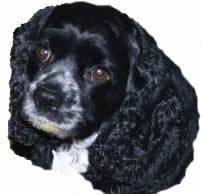 I don't often share a great deal of personal stories except about my own Jezzie and Bruti but I want to share this one. My dearest friend just found out yesterday that she will very soon be losing her dearest friend. My heart is breaking for her and her sweet little girl, Sassy.
Sassy has battled Cushing's and pancreatic disease, knee replacement and fought every step of the way. For 10 years she has held a most special place in the heart of her mom and dad. And they both hold a very special place in the hearts of so very many who call them friend.
The day before yesterday she was feeling well and when her mom took her to the vet she got the worst news imaginable, a 75% chance of cancer. Just a couple of days ago she was playing like a puppy then BANG! Her mom noticed her tummy was hard and the vet found a mass the size of a tennis ball and a severely enlarged spleen. This is extremely aggressive.
I am copying this from Sassy's diary that her mom wrote this morning….
This is how the day started August 31, 2007.

I am really, really scared. I will take Sassy to the vet at 12:15 today. She isn't feeling any better today. She still won't hardly move. She won't play ball or play at all. She is going potty but her tummy is hard as a rock. She even has a little trouble standing up from a laying down position. I am freaking out. I dozed off for about an hour or so last night but mostly just watched Sass. The life has just drained out of her. For the first time besides her leg implant, her daddy is really worried. I will let you know how the vet visit turns out. Now there is fever unlike last night

My worst nightmare has become a reality. They told me it is a 75% chance she has cancer. Sassy has a mass the size of a tennis ball. It's either an enlarged spleen or a mass on her liver. Either way it is very bad and very serious. The vet showed me the x-rays of her little tummy and it's more mass than tummy. She is in pain but they will give her some meds for that. I had to leave her so they can do blood work and an ultra sound. I will pick her up at 5 and get those results. They are also worried her spleen may burst. They are talking exploratory surgery and I couldn't even soak up the rest of what they told me. All I know is I am losing the most precious thing in my life and I can't stop it. I honestly don't think me & Jim will survive this. She has brought us total happiness and we can't help her.

Sassy will most likely be having surgery tomorrow to remove her spleen and they will do an exploratory as well. They are thinking it is most likely Hemangiosarcoma.

Hemangiosarcoma is a cancer that affects the liver-spleen and/or heart. Sassy's mass is located on the spleen. She needs surgery as soon as possible before the spleen bursts. The mass is filled with blood. If the spleen bursts she will pass in a matter of 2 hours or so. With just a surgery intervention-survival rate is 1-2 months. The spleen can be removed with very few side effects and even portions of the liver-but this cancer spreads extremely fast so she needs to get it done ASAP. Chances aren't too good because of the size already but it can be done."

At best, she may only have a month or two tops … if it's worse then that…. maybe just days or we may be called in to say our goodbye's. If there are signs of the cancer in her liver or vital organs that is.

The vet called tonight around 9:00 and said she is still trying to schedule the surgery at Santa Cruz Veterinary Emergency Care Facility. Now it looks like it will be done on Sunday at the earliest. We may have to do it at the Monterey Emergency Clinic if we don't hear back from Santa Cruz vets by tomorrow morning. I insist it is done at a hospital with 24 hour care. Santa Cruz is my first choice because it has an oncology specialist and specialists in other fields that Sassy may need.

I don't feel up to writing but everyone has been so wonderful in supporting my precious baby I feel I must write something. Most is copying and pasting so please forgive me. You'll never know how much all of your support and prayers mean to me.

I'll never forget all you that have sent prayers and posted well wishes and such. I am so overwhelmed and I love you all so much. I am fighting through the tears and it's difficult to type but I needed to let you all know how much you have touched my heart.

I still can't believe I am losing her this fast. She was doing great June 22, 2007 and feeling like a million.

I won't be around much because I need to spend time with her and her daddy as a family and make every second count.

I have one last favor to ask of all of you. That is to spend every single moment like it will be your last with your babies. You never know when you will lose them. I just hope I will have Sassy at least 2 more months. I already know I am losing her and it's killing me.
Sassy and her family have so many friends all over the county and beyond and the support is just amazing and all of us are just heartbroken. This is my tribute to my dearest friend and her dearest friend. I love you Sally and Sassy!!
When The Time Comes
——————-
Lord, when the time comes please help me be strong
my furry friend is sick; something's terribly wrong
The vet checked her over; there's nothing he can do
I'm afraid soon I'll be sending her; home to You
Please take her back home; on the wings of a dove
into Your loving arms; up in heaven above
Take her to a meadow; where she can play and run free
under bright sunlight; among the green grass and trees
She's been a part of my life now; for so many years
I'll miss her so much; my eyes are filling with tears
Please give me the courage; to tell her good-bye
as I know she'll watch over me; through her loving eyes
I'll never forget her; I'll see her one day
tell her we'll meet at the Bridge; then we'll go play
I'll cherish the memories; of the time we both had
they'll put a smile on my face; then I won't feel as bad
John Quealy
Email This Post
Like this post? Subscribe to my RSS feed and get loads more!