10 Year Prison Sentence for Dog Fight Organizer
Tuesday, February 24th, 2009 at 7:52 am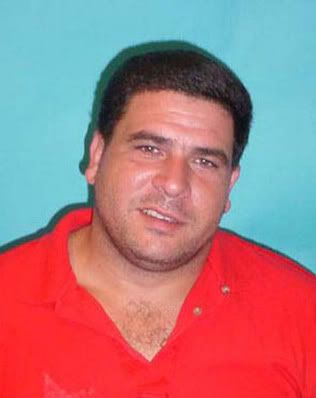 Well hallelujah!  An actual prison sentence for a piece of scum dog fighter! Meet Juan Carlos Olivero, a Miami-Dade man his sister describes as an animal lover. Oh yeah, he loves animal alright, loves to see them rip each other apart! Family members describe him as hard working. Yeah, it tough work to train dogs to be vicious instruments. It's tough work to get a bunch of other trash together to watch these bloody spectacles. It's tough work collecting money. Oh, I know, it's really tough work trying to keep these illegal activities from the eyes of law enforcement. Looks like he failed on that one!
In November of 2007 Olivero, who ran a party supply rental business, was arrested, along with 6 others who have yet to stand trial,  after a tip led police a property off Krome Avenue at Southwest 160th Street. There they saw a crowd of people cheering a pair of bloodied pitbulls in a fighting ring.
The losing dog eventually died. Police found two more uninjured dogs there and four more at Olivero's residence. All the dogs were euthanized because BSL is alive and rampant in Miami.
Olivero pleaded guilty to fighting or baiting of animals and was sentenced to a 10 year prison sentence.
"You are a hard-working man, there is no doubt in my mind," Miami-Dade Circuit Judge Reemberto Diaz said. "However, you have also shown total disregard for the laws of Florida."
Olivero seems to also have a long criminal history with 15 felony convictions including aggravated stalking and false imprisonment. He was also given another 10 year sentence, to run concurrent with the dog fighting sentence, for parole violation.
Yeah, this is one real hard-working guy! Sounds to me like someone who should be locked up and stay locked up! 15 Felony Convictions!! How many does someone have to have before someone sees that a person is beyond hope??
"I am very regretful of what I did, that I'm not going to be by my family, and helping my mother," he stammered, before Diaz cut him off to deliver the sentence.
Yeah, that might have flown the first time, maybe even the second… sorry buddy, you're a waste of human life! The only thing you regret is getting caught and having your sorry ass tossed behind bars!
Email This Post
Like this post? Subscribe to my RSS feed and get loads more!