114 Dogs Found Abandoned in Arkansas Kennel – 'Puppy Mill'
Wednesday, August 15th, 2007 at 10:41 am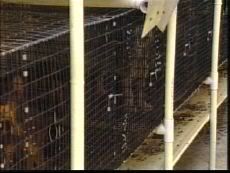 What an absolute atrocity!! 114 Dogs, adults and puppies, found, starved and in the sweltering heat in an abandoned kennel in Bloomer, Sebastion County, Arkansas! Animal rescue workers call it the worst puppy mill they've ever seen.
On Monday Sebastion County animal control officer, Richard Rivera, was called to 4701 Bloomer Road where he found the abandoned dogs. They were starved with no food or water, two of the dogs had already died and one dog had eaten her pup. They believe the dogs may have been abandoned as long as 4 weeks ago!
Many of the dogs were suffering from malnutrition, mange, fleas and ticks. One had a ruptured eye. Some had maggots and parasitic worms on them. Feces piled up inches deep.
"They have tumors, hair loss, hair mats, worms, anything parasitic," said Sebastian County Animal Control Officer Richard Rivera.
Sebastian County sheriff's deputy Sgt. Janell Daggett said that as many as 30 of the dogs may need to be euthanized. "I wanted to cry. It was just so sad."
Neighbor, Linda Irvin and her brother had owned and operated the kennel for about five years before selling it in December to Terry and Andrea Whitsell. The kennel sits behind her mobile home separated by trees and a large hedge, a driveway runs by her property. Irvin said that she had not seen the Whitsells since August 6 but after being told previously to stay off the property she was hesitant to investigate.
On Friday Linda decided to check the situation out anyway and what she found appalled her. The place was abandoned! Using what limited resources she had, she purchased as much food as she could for the dogs and fed each one at least a little and through a friend Sebastion County official were contacted.
Right now Dagget's main concern is getting the dogs to safety then she will concentrate on finding the owners and finding out who is responsible for the dogs and that is where there is some confusion. Other kennel owners said that the kennel was turned back over to the Irvin's about two weeks ago but they say they've had no connection with the kennel since March.
[Rivera] said he's never seen so many abandoned dogs in a single location.

"For its magnitude, 'two dogs dead.' that's a lot better than what we thought it would be," he said.

Rivera said the kennel was in good condition and was well built. Each cage had an indoor and an outdoor section. Each cage also had an automatic watering system, but the water to the cages had been turned off at the spigot.

The portions of the cages inside the buildings had air conditioning, but the air conditioners were not working, Rivera said.

"They've got all the means [to properly house the dogs ], they just were not doing it," Rivera said.

Humane Society shelter manager Carole Shelton said the dogs that are not euthanized will receive medical treatment for their various ailments and will be tested for heartworms and treated for other parasites. Also, they will be spayed or neutered.

The animals that are well enough eventually will be put up for adoption, she said.

Rivera said his office has received many calls already from people wanting to adopt the abandoned dogs.
Right now they are just awaiting a court order to be able to remove the dogs to the human society so that they can get the medical treatment they so desperately need, then the investigation can continue into finding out who was responsible for the dogs.
Humane society officials are asking for donations to help feed the animals. Anybody who would like to help or adopt can contact the Sebastian County Humane Society or call (479) 783-4395
Email This Post
Like this post? Subscribe to my RSS feed and get loads more!