$12 Million Dollar Pooch Has Got Some Troubles!
Wednesday, September 5th, 2007 at 7:34 am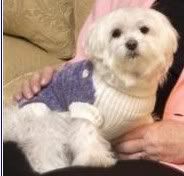 By now I think most everyone knows about Leona Helmsley's little maltese, Trouble, inheriting a $12 million dollar trust but it's looking like little Trouble has some troubles of her own.
Helmsley's former housekeeper, Zamfira Sfara, 48, previously tried to sue Helmsley for bites she sustained while in her employ but lost the case when a judge ruled Helmsley was protected from liability under the Workers Compensation Law. Now Sfara's son, Remus Pop, says his mother is going to be talking to a lawyer about going after the pooch's inheritance.
"That is the next step," Pop said. "That dog got money. That money is going to be taken away from that dog."
Helmsley's will also stipulates that her brother, Alvin Rosenthal, 80, is to care for the pampered pooch but seems he's not interested. For the moment Trouble is still living at Helmsley's Connecticut estate being cared for by her staff. Whether her grandson, David Panzirer, would step in and take over Trouble care isn't known.
And last but not least, Helmsley's will stipulates that when Trouble's time comes, she's to be interred in the Helmsley mausoleum but it doesn't look like that's going to happen either. The cemetery says state law forbids animal remains to be buried in human graveyards.
So now we have to just wonder exactly what the future's gonna hold for this pampered pooch.
Email This Post
Like this post? Subscribe to my RSS feed and get loads more!