13 Puppies Die, 1 Survives – Reward!
Monday, December 24th, 2007 at 1:45 pm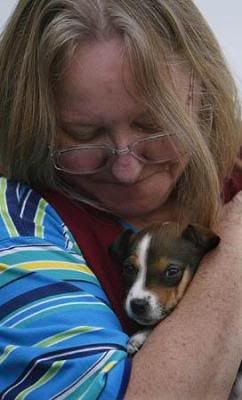 I read this story the other day and it just broke my heart!! Some heartless person dumped a bag with 14 Jack Russel mix puppies in a Dumpster outside Hancock Fabrics in Salt Lake City, Utah. The puppies were only 3-5 weeks old!!
When an employee of the fabric store heard crying, she thought it was a child or baby initially. She and two other employees opened the Dumpster and removed the bag that was wrapped in a sheet only to make a gruesome discovery, 13 dead puppies, only one of the total 14 survived!
"All of us have had [nightmares]," said employee Rita Woodward, who adopted Precious.
"We refer to her as our Hancock mascot." They're proud of their survivor and a angry at whoever dumped her and the others. Rita asked, "How could anyone do something like that?" I don't care if it's a child or a dog, you don't do that."
Precious spends a lot of time sleeping – not unusual for puppy – and appears to hate the cold. "The vet said other than having worms and being underfed, she would be just fine," reports Rita. "And in a week or two, she will be a perfectly healthy little puppy."
Riverdale police Lt. James Ebert said several had teeth and were close to being weaned but it's not clear whether they died of exposure or of suffocation.
The Human Society offered a $2500 reward for information leading to the person (s) who abandoned these tiny innocent puppies to their death and an anonymous donation has upped that reward to $5000.
"This was an act of unspeakable and pointless brutality," said HSU Executive Director Gene Baierschmidt. "Those animals could have been taken to a shelter and given the chance to be adopted to loving homes. Whoever did this cruel and cowardly thing should be made to realize that these were living, feeling creatures. They weren't old banana peels or teabags; you don't just toss them out with the rest of the garbage if you don't want them."
Unfortunately, leads in this case are almost nonexistent!
Riverdale Police agree, but they don't have much evidence to help their investigation. Police Lt. James Ebert said, "The condition the bag was in when we got to it (was not good). The employees had kind of ripped it apart trying to get to the puppies. And then the bag was also wrapped in a sheet and that destroyed any evidence that was on the outside." What's more, no surveillance camera is pointed at the dumpsters. (ABC4)
The guilty person could face aggravated animal cruelty – that's a class "A" misdemeanor under Utah law. Police are asking for the public's help, anyone with information on the litter should call Riverdale police at 801-394-6616.
Email This Post
Like this post? Subscribe to my RSS feed and get loads more!