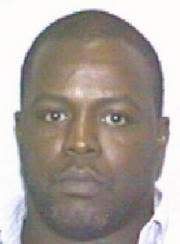 A breeder of dogs for the illegal bloodsport of dogfighting has been sentenced to 15 years in prison! Raymond Eugene Teamer, 42, of Milton, FL, was charged with 35 counts of training or baiting animals for fighting and two counts of processing or selling dogfighting equipment, all third-degree felonies.
In November 2007, after 7 months of investigation, Santa Rosa County Sheriff's investigators found 30 dogs and puppies along with a cache of medicine and equipment and a 10-page document that detailed how to train and condition dogs for fighting at Teamer's house.
Many of the dogs were covered in battle scars, one, a five-time champion named Willie, was missing the entire lower portion of his jaw.
Many of the dogs were tethered using heavy chains, one a 22 lb chain. This became one of the key pieces of evidence as prosecutors explained to the jury how these incredibly heavy chains were used to build up the dogs' strength for fighting.
"It's a pretty grotesque scene," John Simon said of the underground sport of dog fighting.

Simon and his co-prosecutor, Bridgette Jensen, showed the jury dozens of grisly photographs of scared dogs, and dead dogs investigators found in the woods near Teamer's property.

Teamer's defense attorney Peter France produced no witnesses to rebut the prosecution's long list of charges and allegations.

The dogs found on Teamer's property were euthanized. Dominic Persichini, Santa Rosa County's Animal Services director, said his agency does not adopt out dogs that have been bred for fighting.

"We don't adopt them out here at the shelter because we consider them a risk," Persichini said. "Normally, if they are fighting dogs, they usually aren't aggressive toward people, but they are extremely aggressive toward other dogs."

Two other men connected with the investigation, Jeffrey Jay, 33, of Century, and Michael Anthony Jones, 34, of Century have charges pending. They are scheduled for court appearances next month. (PNJ.com)
Dogfighting, as atrocious as is it is in its own right, is just one part of this vicious and illegal bloodsport. In handing down the sentence, not only are they removing a breeder of illegal fighting dogs from the streets, they are removing a link in the cycle of gangs, guns, drugs, gambling and violence. Dogfighting is a crime that is now, finally, being recognized for being as serious as it is with far reaching consequences.