19 Dogs Rescued from 'Hell House'
Monday, July 9th, 2007 at 8:12 am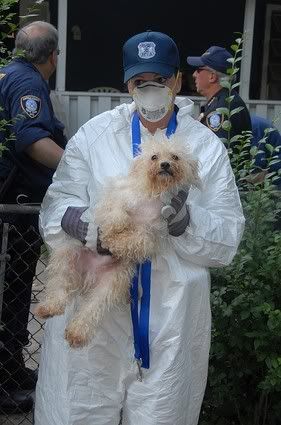 Unbelievable!! How can someone do it? I ask that everyday and there are no answers. Sounds like this man was operating his own little private 'puppy mill' hell!!
A Mastic man was arrested Saturday and charged with animal cruelty for keeping 19 dogs in a feces-filled room, an SPCA official said.

Daniel Friedman, 63, of 59 Coventry Ave., was being held at Suffolk County Police's Seventh Precinct Saturday night. Bail was set at $1,900, said Roy Gross, department chief with the Suffolk County SPCA.

The stench inside the home was so bad that the fire department was called to ventilate it. SPCA workers and firefighters entered the home only after putting on masks or breathing apparatus, Gross said.

"It's one of the worst cases I've seen in many years," Gross said. "They were living in hell."

An anonymous tip led animal cruelty investigators to Friedman's home. They arrived about 3:30 p.m., Gross said.

Inside investigators found the dogs in a bedroom with no ventilation, described as the size of a 10-by-10 walk-in closet, housed in small cages with no food. Some of the dogs were covered in feces, Gross said.

All the animals suffered from severe gum disease and several had severe corneal ulcers. The dogs were three breeds: cocker spaniels, miniature poodles and Lhasa apso. The dogs were between one and three years; two were pregnant and full-term. Gross speculated Friedman may have been breeding dogs for sale.

The dogs were taken to the SPCA's mobile hospital for examination. Gross said it was too soon to know if the dogs could be put up for adoption but those interested can contact the SPCA at 631-382-7722.

The charges Friedman faces are misdemeanors. He faces a maximum penalty of up to one year in prison and a $1,000 fine for each charge.

"I don't know how anybody could have lived in that home," Gross said. (Newsday)
People who do this need to be subject to living in the same conditions that they force these poor innocent dogs to live in! There is no excuse whatsoever!!
Email This Post
Like this post? Subscribe to my RSS feed and get loads more!