19 Yr Old Throws, Stomps, Squeezes 3 Month, 2 Pound Puppy
Saturday, May 10th, 2008 at 10:05 am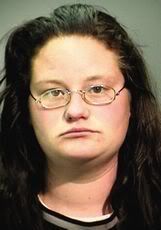 Shasta Dawn Parnell, 19, of Medford, OR, has been arrested and jailed on a felony aggravated animal abuse charge after she reportedly threw, squeezed and stomped on a tiny Pomeranian puppy.
After a report of animal abuse, police arrived at Medford Shopping Center, near Biddle Road and Stevens Street to find Parnell squeezing the tiny 3 month old, 2 pound puppy till it couldn't breathe. She refused the officer's request to hand him the puppy and threw it about ten feet where it landed on the pavement then fought the officer attempting to arrest her. She's also charged with resisting arrest.
Witnesses told of how the young woman had been throwing the puppy to the ground, stomping on it and swinging it by its leash.
The puppy is now in custody of Jackson County animal shelter where she is being treated. She appears to have no serious injuries and will be held there as evidence if needed and until they are told that Parnell will not be able to reclaim the puppy.
Budreau said the felony charge of aggravated animal abuse is applied in cases of people purposely inflicting pain on an animal for no other reason than torturing it.
Police suspect Parnell, who has no listed address, was suffering from mental illness. She was lodged in jail, where remained Thursday on $25,000 bail.
It sounds like this young woman needs some serious help and treatment. Thankfully the puppy was rescued before if was seriously hurt and that witnesses quickly called authorities.
Email This Post
Like this post? Subscribe to my RSS feed and get loads more!