2 Dogs Thrown From Overpass, One Missing, One Dead
Saturday, January 19th, 2008 at 8:07 am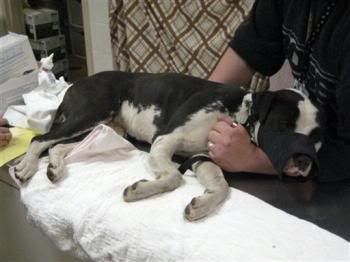 On Wednesday a witness called the Humane Society to report seeing two dogs fall from a Missouri overpass, one a pitbull, the other a golden retriever or Akita mix type dog. Authorities believe the dogs were heartlessly thrown from the Union Boulevard overpass 30 foot to a parking lot in an industrial park south of Interstate 70 about 5:30 p.m in north St. Louis.
The pitbull shown left was taken to the Humane Society of Missouri's headquarters on Macklind Avenue for emergency treatment. When he was examined it was found that he was suffering from multiple fractures in his his front legs as well as possible nerve damage. The Humane Society believed it doubtful that he would ever walk again and he was in constant, extreme and uncontrollable pain. Veterinarians decided Thursday night that it would be the most kind and humane thing to euthanize the poor abused dog.
"This dog was in severe, nearly uncontrollable pain and it was questionable whether he would be able to walk again," veterinarian Melinda Fleming said. "That someone would allow a pet to be abused in this way is unthinkable and heartbreaking."
The second dog, either a retriever or Akita mix, although the Humane Society believes may have been seriously injured as well, ran from the scene. A team from the Humane Society as well as Animal Control have searched for the dog but as yet have not found it.
"We will continue to work closely with the St. Louis City Police Department to find the people who committed these horrible acts of cruelty," said Tim Rickey, director of Rescues and Investigations for the Humane Society of Missouri. "When they are found, we will recommend prosecution of this felony crime to the full extent of the law."
The Humane Society has offered $2,500 for information leading to an arrest and conviction. Persons with information pertaining to this case are asked to call the Humane Society of Missouri Rescues and Investigations Department at (314) 802-5712 or St. Louis City Police North Patrol District 6 at 314-444-0001.
Source – AP
Email This Post
Like this post? Subscribe to my RSS feed and get loads more!