22 Dogs Seized from Car Now Have a New Chance at Life – VIDEO
Tuesday, February 17th, 2009 at 7:43 am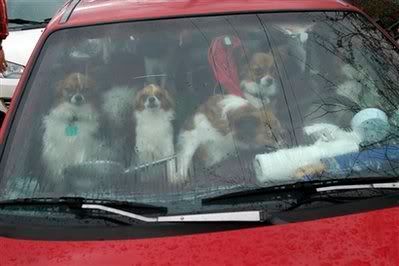 Last week the Texas SPCA seized 22 small dogs, mostly all Papillons and long-haired Chihuahuas, after they were found living in a car with their owner. Yesterday a judge awarded the SPCA permanent custody of the dogs.
"The hardest part about this case was that she and the dogs were living in this car," said Maura Davies, an SPCA spokeswoman. "It was tough to hear that they didn't have anywhere to go."
This is great news for the dogs. Once they are evaluated, those that are healthy will be available for adoption as early as Friday at two SPCA facilities: Dealey Animal Care Center, 362 South Industrial Boulevard in Dallas and Perry Animal Care Center, 8411 Stacy Road in McKinney.
This news isn't so good for the owner of the dogs, Lisa Espil. She wanted the dogs back and said that the SPCA lied to her and that they are thieves.
I feel some sympathy for her but more for the dogs who were being forced to live in horrible conditions. You cannot live in a car with 22 dogs, that's just insane! Thankfully the judge and SPCA saw the reality of the situation and did the right thing for the dogs. They cannot speak for themselves or make decisions, it is up to those who have their best interest in mind to do that.
"She probably has good intentions, and probably cares for the animals, but you gotta be able to take care of them and provide for their health and safety and their well being, but she didn't provide any evidence or proof that she was able to do that," said Judge James Harris, Justice of the Peace, Pct 2.
"We're glad that the animals are no longer in a cruelly confined situation, and we look forward to providing them new homes," said Maura Davies, Senior Communications Director with the S.P.C.A. of Texas.
Seized Dogs Awared to the SPCA
Email This Post
Like this post? Subscribe to my RSS feed and get loads more!