22 Little Dogs Rescued from Deplorable Conditions – VIDEO
Tuesday, February 10th, 2009 at 7:43 am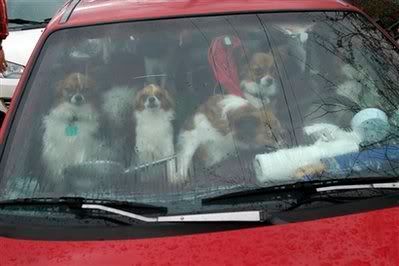 Update 2/17/09 – 22 Dogs Seized from Car Now Have a New Chance at Life – VIDEO
Yesterday morning Texas SPCA investigators got a tip about a car filled with dogs. When a Grayson County constable tried to served a warrant, the woman locked the doors of the red station wagon and refused to come out. The odor of ammonia emanating from the vehicle could be smelled from several feet away.
When investigators were able to get into the vehicle, they found 22 small dogs, Papillons and long-haired Chihuahuas, crowded in the vehicle with blankets, pots of water and waste. No idea how long the dogs and the owner had been living in the car but the condition inside was just horrendous.
"The car was soaked with urine and covered in feces. The ammonia level in the vehicle was 23 parts per million even after the doors had been opened for several minutes. As a frame of reference, humans start experiencing health issues at 12 parts per million," Courtney Stevens, SPCA of Texas rescue and investigations supervisor, said in a news release.
The dogs, 20 adults and 2 puppies, were taken to Perry Animal Care Center in McKinney where they will remain until a custody hearing.
The owner, who was incoherent at the time, was not charged and the SPCA contacted Adult Protective Services regarding her care.
This sounds like a terrible sad situation but there are so few details that you really can't tell exactly what was happening. A person forced to live in her car with her babies because she has no other alternative? Very possible. A victim of these tough economic times?  Possible.
There's no doubt there was some kind of a problem and the bottom line here is that it's a good thing that someone took the time to make a call and get these poor dogs out of this situation and this woman some help that it sounds like she needed.
Email This Post
Like this post? Subscribe to my RSS feed and get loads more!