45 Dog Removed from Licensed Vet's Property
Tuesday, January 15th, 2008 at 8:12 am
It always makes me even more angry than usual when animal cruelty comes from people and place that are supposed to be professional caregivers for animals!
On Friday, 45 dogs, one cat and two birds were removed from 66 year old veterinarian, Johnathon Wilson's, property in Dunklin County, MO. The dogs, poodles, cockapoos, cocker spaniels and other
mix breed dogs were found filthy, matted, with eye and ear infections and 22 tested positive for heartworm.
The building where the animals were, the floors were covered with feces, urine and trash, the conditional deplorable. Outside in the front yard was pit filled with the dead and decomposing bodies of dogs.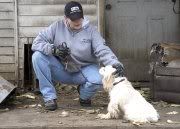 "We helped remove 45 dogs, 1 cat and 2 birds from a property that was owned by what turned out to be a licensed veterinarian," Jeane Jae of the Humane Society said. "The property was very filthy, trash strewn where the animals were kept. And in the front yard of the property there was a pit full of decomposing animals, unfortunately."
Wilson has a 1984 murder conspiracy conviction on his record. Sentenced to 5 years, he served a little over one year and his license was reinstated.
The animals have all been removed from the property and taken to the Humane Society of Missouri. They are trying to gain custody of the dogs and other animals so they can have a chance at a better life.
A hearing is set for February 8th to determine whether the Humane Society will get legal custody of the animals. If so, they would be available for adoption once they're healthy. Call 314-802-5712 for information on adopting these animals.
Email This Post
Like this post? Subscribe to my RSS feed and get loads more!