5 Years, 850 Miles, Dog Back Home – VIDEO
Thursday, July 17th, 2008 at 7:42 am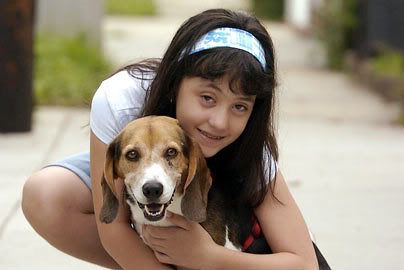 What an amazing story and an amazing story! After 5 years and 850 miles, Rocco the beagle is back in the loving arms of Natalie Villacis, all because of a little microchip.
In spring of 2003, the then much smaller Rocco, disappeared from his family's Queen's New York home by digging out under a fence.
Natalie Villacis, Rocco's then 5 year old owner, was heartbroken. The family plastered missing flyers everywhere, called animal shelters and looked for Rocco with no success. Eventually they moved on with their life but little Natalie never forgot about Rocco.
Natalie kept Rocco's favorite stuffed toy and never stopped wondering "what happened to Rocco, where he went and if someone good found him".
"Every time I would see a dog on the street , I would say to my mom, 'Maybe Rocco will come back'," Natalie said.
"She would say that he probably isn't going to come back. I would say, 'I know, but maybe he will'."
When they got the phone call from a Georgia shelter saying that they had their dog, they couldn't believe it at first.
"We didn't think it could possibly be him – Natalie never stopped thinking about him but he thought he was gone for good," Mr Villacis, an antiques restorer, said.
"We were so surprised," Cristina said. "At first, of course, we thought, 'It's the wrong dog. It can't be.' But I think the turning point was when they said, 'His name is Rocco.' Right there, we said, 'OK, it's ours.' "
Randy Durrence, an Animal Control Supervisor in Hinesville, said Rocco was found walking down a road near Ford Stewart, a local army base.
Although no one knows for sure, it's possible a soldier wound up with Rocco some way and that's how he made the journey from New York to Georgia.
Although Mr Villacis didn't recognize Rocco, the microchip was proof positive that it was the long missing pooch. Aside from a scar on his ear, fleas and heartworm, he was in good heath and great shape.
Needless to say, Natalie is ecstatic over Rocco's return. Even though she now has another dog, a poodle, that her parents got to help her get over missing Rocco, he's never been far from her mind and always in her heart.
"She got over it, but she was always wishful that he'd come back," Cristina Villacis said. "She'd always make wishes."
Whoever it was that looked after Rocco over five long years has the lifelong gratitude of a little girl in Queens.
"Too bad we couldn't meet them or see them," Natalie said wistfully.
What a wonderful and touching story!! Just goes to show how important it is to get your dog microchipped. I hear stories like this again and again, dogs making their way home after an almost amazing amount of time because they were 'chipped. It's just gotta make ya smile! 😀
Rocco and Natalie Villacis reunited after 5 years
Email This Post
Like this post? Subscribe to my RSS feed and get loads more!