$50K Warrant for Boulder Creek Breeder, Robert Brunette's, Arrest
Friday, August 29th, 2008 at 7:35 am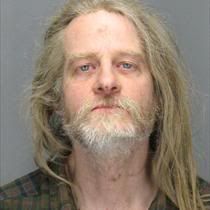 They should never have released this nutcase!! First Robert Brunette, 45, of Boulder Creek, doesn't allow authorities on his property, then when they come back with a warrant, he runs from police who have to issue a warrant for his arrest. Finally he turns up days later in Los Gatos on July 31, but not before taunting authorities by placing a skull and two dog paws on the very same table where 5 dog skulls were found during the initial investigation of the property.
The he hems and haws for weeks over his release. He agrees to sign off on a conditional release, then refuses, then agrees, then refuses, back and forth and back and forth. He finally agreed to the conditional release and was released on August 20.
The terms of his release included phoning in every three days to report his location, allowing inspections of his property and not being allowed to have any animals.
Well, no surprise, Brunette has failed to follow the terms of his release!
He's been reported by at least two people walking with sickly dogs, most likely ones that authorities were not able to capture on his property. And now, lo and behold, no one seems to be able to find him!
"Despite Animal Services' and Sheriff's Office's numerous attempts, they have been unable to locate him," Prosecutor Heather Jones said Thursday morning.
So now they issued a $50K warrant for his arrest.
Brunette faces 10 counts of crimes against animals, including two felony animal neglect charges. He faces four years in state prison.
Anyone who knows the whereabouts of Brunette is asked to contact the Santa Cruz County Sheriff's Department at 831-454-2996.
Just get this guy back into custody, toss his ass in jail and leave him there! Should never have let him out!
Email This Post
Like this post? Subscribe to my RSS feed and get loads more!