7 Years Prison for Man Who Killed Dog with Hammer
Saturday, July 12th, 2008 at 11:03 am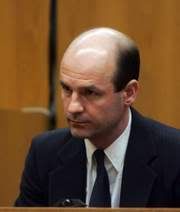 This is Dennis Robinson, looks like a nice professional guy. Could even be a banker or lawyer type, right? Well, goes to show you just how deceiving looks can be.
Robinson was just convicted of animal cruelty in the brutal killing of his 5 year old Cocker Spaniel, Abbie, in March of 2007. Due to his extensive criminal history, including a manslaughter conviction, he's been sentenced to 7 years in prison and must do 3 1/2 before he can even be considered for parole.
Witnesses said he beat and kicked the pet, and then flung it against the wall of his trailer in the Maple Lake Campground in Jackson. He then, in front of horrified witnesses, crushed the dog's skull with a hammer, killing her.
A man who regularly donated dog food to people at the camp ground heard about the killing and looked for the dog's body without success. Days later, the campground's landlord said that in the course of removing Robinson's camper from the park during an eviction, the dog's body was found stuffed in a freezer outside.
One of the saddest notes is this story is that Abbie had been put up for adoption by an elderly man who became ill and couldn't care for her. His only hope was that she find a good home. So how did Robinson wound up with this poor doomed dog? His girlfriend, Tara Melnick, applied to adopt the dog from Northern Ocean Animal Shelter, for herself she said, then she gave her to Robinson.
Robinson's previous criminal history includes a 1992 conviction for aggravated manslaughter in the fatal stabbing of a 24-year-old Tinton Falls man, Joseph LoBosco. Robinson also has three burglary convictions, in 1989, 1999 and 2003, and convictions for criminal mischief and possession of a weapon by a convicted felon.
Under New Jersey law, animal cruelty is a fourth-degree crime carrying a maximum prison term of 18 months unless there are special circumstances. One of the circumstances that elevates the cruelty to a third-degree crime, with a maximum penalty of five years in prison, is if the animal dies as a result of the cruelty.
In this case, Assistant Ocean County Prosecutor Michael Weatherstone argued for an extended term for Robinson based on his prior criminal record, which started when he was 13 and included a conviction for aggravated manslaughter. In his entire adult life, Robinson has only spent 4 1/2 out of prison.
"He has shown absolutely no ability to live within the rules and norms of society," Weathersone said. "What this defendant did to Abbie was despicable."
Obviously Judge James Den Uyl agreed as he imposed the extended sentence on Dennis Robinson, upping the max of 5 years to 7 years and making it mandatory that he serve a minimum of 3 1/2 years before he even become eligible for parole.
Nothing will bring Abbie back but Robinson is definitely where he belongs!! Maybe he'll chance to meet some nice animal lovers in there who want to make him their 'man's best friend'!
Email This Post
Like this post? Subscribe to my RSS feed and get loads more!