A Dead Dog as Art? Petition
Tuesday, October 16th, 2007 at 9:37 am
This story is from Costa Rica and is just stunning in it's cruelty and depravity.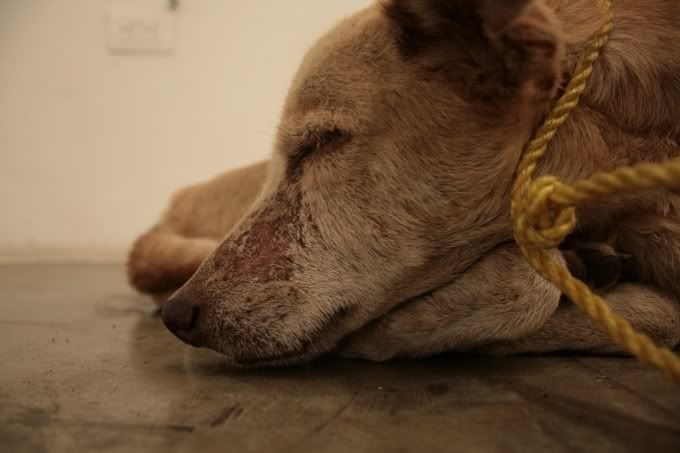 A Costa Rican artist found himself in hot water with the animal protection people in his home country after using a starving, sick street dog as part of an exposition in Managua, Nicaragua, in August. Guillermo "Habacuc" Vargas allegedly found the dog tied up on a street corner in a poor Nicaragua barrio and brought it to the showing. He tied the dog, according to furious animal lovers, in a corner of the salon where it died after a day. Habacuc's exhibition included a legend spelled out in dog food reading "You are what you read," photos and an incense burner that burned an ounce of marijauna and 175 "rock' of crack cocaine. In the background, according to reports, the Sandista national anthem played backwards. According to the artist, his "art" was a tribute to Natividad Canda, a Nicaraguan burglar killed in Costa Rica by two rottweilers guarding property he had entered at night. The incident caused friction between the two countries. Habacuc told the daily La Nacion, "I won't say the dog died. The importance to me is the hypocracy of the people where an animal is the focus of attention where people come to see art but not when it's in the street starving to death." "The same thing happened with poor Natividad Canda. The people sympathized with him only after he was dead," the artist added. The artist apparently is unaware that at least three large, active organizations are dedicated in Costa Rica to the protection of animals and that several persons have been prosecuted for cruelty to animals. They are hampered in their efforts by the old Hispanic customs of disregard for animal welfare and by a lack of funding. (Costa Rica Blogs)
*********************************************
This was reposted by Maria Danes, the British singer who did so many tribute songs
including for Mercy, the burned pitbull and Tobey, the tortured 5 month old Chihuahua mix puppy.
Written by Vesna Jones –
Dear friends, this is very cruel and sad. An "artist" from Costa Rica, named Guillermo Habacuc Vargas, put a starved dog as a work of art, the poor dog died there, he did not want anyone give him food or water. This monster asked some children to chase the dog and he paid them for their dirty work to give him the dog. In that event, (in which the dog died) he was chosen to represent his country in the "Bienal Centroamericana Honduras 2008", the petition site is to sign to boycott him , so he won't can participate in the event
Please, take a moment a sign it!
Below is a translation of the petition. It is a 'strict' translation but you should be able to understand it. When you sign it, you are asked for your name, email address, Ciudad / Localidad: (required) = city and País: (required) = country.
PETITION
Boycott to the presence of Guillermo Habacuc Vargas in the Central American Biennial Honduras 2008

View Current Signatures – Sign the Petition

To: Central American biennial Depth 2008 14 September 2007 – Of http://www.nacion.com/ln_ee/2007/septiembre/14/aldea1239344.html In the middle of polémica, the Costa Rican Biennial of Visual Arts (Bienarte) 2007 inauguró last night strict and pequeña selección of works and premió to six artists with happens torepresent país in the Central American Biennial Honduras 2008. The artists awarded in this sixth edición of the prestigious appointment of art contemporà neon were Errol Barrantes, Guillermo Habacuc Vargas, Oscar Figueroa, Mimiam Hsu, Esteban Stone and â??La band of the submergedones (Sila Chanto and Jhafis Quintero).

The jury, integrated by Ana Sokoloff (Colombia), Oliver Debroise (México) and Rodolfo Kronfle Chambers (Ecuador), escogió with work base of great quality and excellent coherence between idea and ejecución, según detailed. the Bienarte is organized by the Industralists by the Art.

******************

One of the "artists", Guillermo Habacuc Vargas (http://www.marcaacme.com/blogs/analog/index.php/2007/08/22/5_piezas_de_habacuc) permitió the death of a dog by inanición during the event.

He is inadmissible that pisoteen of this form the rights of the animals and that the "artist" had gathered it of the street to let it die moored with a cord to the wall of galería when she had the opportunity of not making it or even save it.

Of the Blog de Rodrigo Peñalba

http://www.marcaacme.com/blogs/analog/index.php/2007/08/22/5_piezas_de_habacuc

"Según I knew to the dog murió to día following by lack of food. During inauguración I knew that the dog was persecuted in the evening between the houses of aluminum and cartón of a district of Managua with santo name who Habacuc that could not need at the moment.

5 niños of which they helped in the capture received 10 bonds of córdobas by his colaboración. During exhibición some people requested the freedom of the small dog, to which él artist rehusó.

The name of the dog was (it was) Natividad, and I let myself to him die of at sight hunger of all, as if the death of a poor dog was a show medià tico impertinent in whom nobody does nothing mà s that to applaud or to watch disturbed."

Nothing we can do by this dog but if to treat of which the organizers of the Central American Biennial Honduras 2008 do not admit this "maltratador artist" of animals. I request to you you adhere to this request and that you spread mà s that is to you possible shameful east act to gather mà ximo of companies and to veto it in the biennial.

Sincerely,

The Undersigned

View Current Signatures

The Boycott to the presence of Guillermo Habacuc Vargas in the Central American Biennial Honduras 2008 Petition to Central American Biennial Depth 2008 was created by to the cruelty with the animals and does not written by Jaime Sancho torelló (jaime.sancho@gmail.com).

This petition is hosted here AT www.PetitionOnline.com ace to public service. There is not endorsement of this petition, express or implied, by Artifice, Inc. or our sponsors. Technical For support please uses our simple Petition Help form.
This was passed along to me as the 'artist's MySpace page – You can check it out.
EXHIBITION IS TAKING PLACE AT:
Email Address:
info@madc.ac.cr
Location:
Centro Nacional de la Cultura
Antigua Fábrica Nacional de Licores.
Avenida 3, calle 15/17. San José, Costa Rica.
Teléfono: (506) 257 7202 / 257 9370
Fax: (506) 257 8702
Sample Letter to Send the Gallery
I am writing regarding the horrifying actions of Guillermo Habacuc Vargas,who paid local children to catch a dog on the street and then confined,starved and publicly displayed the dog as an "art" exhibit until the innocent animal died of starvation.
I along with many people world wide am outraged t hat Guillermo habacuc Vargas has been selected to represent Costa Rica in "Bienal Centroamericana Honduras 2008″,This man is by no definition of the word an artist he is a criminally insane sadist and enjoys inflicting prolonged suffering upon his innocent victims.he is a danger to all of society as it is well documented that those with the capacity to intentionally cause harm to an animal have the same capacity to harm humans.
To state that this animal would have died eventually of natural causes is unjustifiable and beyond logical,rational thinking.
To allow Guillermo habacuc Vargas to represent Costa Rica in Bienal Centroamericana Honduras 2008 will in no way benefit Costa Rica,the world is watching and the actions of this so called artist has brought much negative assumptions as to the humanity of the people of Costa Rica and the fact that the many witnesses of this animals suffering did nothing and that the organizers of this event allowe d this rather than taking action to see that Guillermo Vargas be criminally charged with animal abuse is sending the world a message that Costa Rica consists of a cruel,uncivilized society that has no regard for life but enjoys viewing and contributing to the loss of life.
Each and every person who knew of and witnessed the suffering of this innocent dog is equally as guilty of causing it's uncalled for death.
And to let this crime go unpunished and instead be awarded by Guillermo Vargas representing Costa Rica in Bienal Centroamericana Honduras 2008 is unacceptable and shameful not only to Costa Rica but to all participants of this event.
I urge you,do not condone the heinous actions of Guillermo Vargas by allowing him to participation in Bienal Centroamericana Honduras 2008.He should be jailed and prosecuted to the fullest extent of law for this animals death,not representing Costa Rica as an artist for he is not an artist and to refer to him as such is an insult to all true artists.
Sincerely,
Your Name
---
ANOTHER GALLERY SHOWING HIS WORK
This is the email addy to a gallery which currently holds some of vargas' work for display and for sale if anyone would like to ask the gallery to drop him from their list of artists their email address is below.
EMail:
info@jacobkarpio-galeria.com
---
INFORMATION ABOUT EXHIBIT
What he says on his blog (translated)
Located Here
According to I knew the dog died on the following day by lack of food. During the inauguration I knew that the dog was persecuted in the evening between the houses of aluminum and cardboard of a dis trict of
Managua
with santo name who Habacuc that could not need at the moment. 5 children of whom they helped in the capture received 10 bonds of córdobas by their collaboration. During the exhibition some people requested the freedom of the small dog, to which he artist rehuso. The name of the dog was (it was) Natividad, and I let myself to him die of at sight hunger of all, as if the death of a poor dog was a shameless mediatic show in which nobody does nothing else that to applaud or to watch disturbed. Definitively we are what leimos: pure croquetas. In the place that the dog was exposed single it has left a metal cable and a cord. The dog was extremely ill, renqueaba and it did not want to eat anyway, so in natural surroundings it had died anyway; but thus they are all the poor dogs: sooner or later they die or they die them.
******************************************************
Here are two news sources, they are not in English tho, so for those of you who think this is some kind of a hoax or joke, it's not!
Foreign News Sources – Nacion.com, ABC.es
From Nacion.com
Exposition carried out in gallery Codex in Nicaragua
Costa Rican artist wrapped in polemics by death of dog in work
'Habacuc' collected to hungry animal and used it in its work "Exposition N°1"
Defenders of animals repudiate the action and they ask to exclude artist of biennial

The costa rican artist Guillermo steep Slopes, more known as Habacuc, is wrapped in a great polemics due to the death of a stray dog inside Exposition N° 1, sample that was carried out last August in Managua (Nicaragua).

Various defenders of the animals in Costa Rica were informed of their work through a blog and they accused it yesterday of cruelty.

What was seen in Managua. As part of its exposition, the artist faced Al spectator to a sick, thin stray dog and with hunger hitched to the corner of the room. He captured Al animal in a poor neighborhood of Managua.

The dog died after a day in the exposition, according to it was confirmed to The Nation Marta Leonor González, publisher of the cultural supplement of The Press in Nicaragua.

The sample also included the phrase, written with food of dog, "you Are what read"; as well as of an audio with the Hymn Sandinista Al reverse, photos and a censer, where they burned 175 stones of crack and an ounce of marijuana.

Habacuc said yesterday that its work was a homage to Nativity Locks, Nicaraguan that died after to be attacked by two dogs rottweiler in a workshop in Carthage.

"I reserve me to say if is certain or that not the dog died. What is important for me was the hypocrisy of the people: an animal thus becomes focus of attention when I put it in a white place where the people is going to see art but not when is in the starving street. Equal passed with Nativity Locks, the people was sensitized with him until they were eaten it the dogs", explained.

Even it added: "Nobody came free Al dog neither gave food or called the police. Nobody did nothing".

Al to be questioned about if fed Al animal or not, the artist refused to respond.

Why did not it use another middle of expression? "I collect what I look at… The dog is more I live that never because continues giving what to speak", said.

Costa Rican anger. Various defenders of the rights of the animals repudiated that work of Habacuc, they disqualified him as work of art and they suggested that Al artist be excluded him of the central american Biennial Honduras 2008, since he will be one of the six representatives of the country.

"I frightened me Al to see that is promoted the cruelty toward the animals in a work of art. We will present a letter so that be prohibited the cruelty in the art and so that this boy do not dam you Al country in the biennial", he expressed Gina Malavassi, champion of the animals.

José Moral, vice president of the Special Unit of Protection and Animal Rescue, he thought. "The dog was hitched and without food; I do not understand in what head that is art".

Liliam Schnog, president of the Humane Association for the Animal Protection, said that does not understand how was left to die of hunger to an animal if at par there was a done phrase with food.

These organizations study the case in order to seeing if proceeds some accusation.
From ABC.es
The revolting provocation

More wood, this is the war of the scandal "artistic". After the polemics of the photography of Nam Goldin of the naked girls now we have the most difficult one still, this is, the demonstration of the cruelty "estetizada". The costa rican artist Guillermo steep Slopes has left to die of hunger to a stray dog in an installation that has mounted in a fair of art in Nicaragua. In a wall he has written, with food of dog, the phrase "you Are what read", adding olfactory and sonorous actions or, better, narcotic, that convert their piece in the peak of the chaotic thing. Thus the hymn can be listened sandinista Al reverse and to attend burns it, in a censer of 175 stones of crack and an ounce of marijuana. I do not please with that cocktail, the known artist with the nickname of "Habauc" trapped a dog in a slum of Managua and he tied him to one of the walls of his demented assembly. Al following day the animal had deceased.

Homage to Nativity Locks

Facing the indignation generalized and to the criticisms, the responsible for this lamentable action has come to say that its intention is to go against the social hypocrisy. Among its confused intentions was that of honoring to Nativity Locks, that was attacked in Carthage (Nicaragua) for some dogs rottweiler. "The people -underlines steep Slopes- was not sensitized with that man until they were eaten him the dogs", adding that did neither nobody decide of feeding Al dog that was "exposing", collaborating of that way to his death. As he is logical, the associations of defenders of the animals have disqualified this supposed work of art.

It is really surprising the proliferation of artistic actions that are characterized for their violence as if they trusted in the homeopathic magic. But it is not certain that in all the circumstances "the similar thing with the similar thing be cured". The contemporaries we suffer the "syndrome of Jellyfish", we are, literally, astonished before the all types of screen contemplating horrors without neither our consciences neither our stomachs react. Some artists, become some apprentices of magician, professionals of the rowdy exorcism, they decide to present to what still, inercialmente, they call "middle-class look", revolting or simply criminal things. Their provocations find the conventional answer: the apathy or the alien shame.

The brutal one "work" of Guillermo steep Slopes carries us to think again in the absurdity of the contemporary art. It obsessed by the taboo one, this is, delivered Al delirium to touch and to desecrate what be, does not pay attention to expenses and gestures. All the gesticulations, supportive with the patty of the reality-show, they finish for carrying us to think that would be necessary to recover the critical capacity or, at least, to accept that, in certain occasions, we are right for the indignation. Because the art cannot be the umbrella for the vandalism and, consistently, would not have that to guarantee the impunity. Chris Burden shot against an airplane Al edge of an airport, Santiago Saw filled a synagogue in Germany of unbreathable gases, Teresa Margolles generates vapor with the water that serves to clean the corpses. In some occasion I have qualified to these contemporary artistic forms traveling through Al term "idiotic". And it so happens that instead of leaving us astonished or to cause to think, the "cruel realism" in which is installed Guillermo steep Slopes reveals more than the stupidity the cynical compliance of the estetización contemporary. There is not in that obscene exhibition of atrocities another thing that search of media impact. Seems to be that this young artist that swings between the platitude and the politics of the accusation was invited to the next central american Biennial. Its stylistic one was typically "bienalista"; had all the elements of the fashionable sauce: a little soft sociology, a slice of somewhat rough and multicultural rhetoric so that can qualify the indigestible mess as "radical". Rilke found in the eyes of a doggie abandoned in its peregrinaje Spanish an interrogation metaphysics, something as well as the indication of a melancholy solidarity. Surely, Guillermo steep Slopes has not read those verses rilkeanos in which calls to the dogs that see us to pass "by a world interpreted". He, with all its decorative rage, does not need the poetry: suffices him with the brutality and to be thus, lacking him so much that to read, an illiterate animalistic one. Its provocation is, simply, revolting.
Translations of both news stories provided by Free Translation.com
*********************************************************
There is no excuse or reason for what this vile 'artist' did, to take an obviously sick and starving dog and to put him on exhibition for any reason is deplorable. And just as bad as this so called 'artist,' is the gallery officials and spectators who allowed this to happen. They condoned this 'art form.'
And to think that this sick and twisted excuse for a human being is being honored and has been chosen to represent his country at a celebration is unbelievable. To glory in such neglect and abuse is just appalling! It matters not that this poor dog was going to die anyway as Guillermo Vargas excuses himself for this display. To drag the dog into this gallery, tie him up and leave him to die so pathetically and in such suffering in the view of so many, not even allowing the smallest act of kindness in giving him food or water, how can someone be so cruel and heartless?!?!
Do not allow this 'artist' to profit in fame or fortune from his act of depravity!! Please sign the petition, write letters and email to the galleries. Show him that is no way will this be allowed! Let him learn the true meaning of 'starving artist!'
*************************************
I want to thank everyone who contributed information, pictures, etc. to put this together and get the word out on this 'artist.' Many people have worked and researched and put their time and heart into this and I tried to pull it all together. I wish I knew everyone's name to thank them personally but the important thing is to bring light to this atrocity and let people know so that something like this does not happen again. Please, get the word out! Post and repost!
Email This Post
Like this post? Subscribe to my RSS feed and get loads more!