A Dog and His Best Friend – Love Doesn't Die
Thursday, January 10th, 2008 at 8:10 am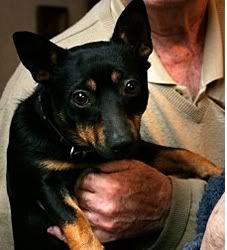 Oscar and Arthur were best friends, inseparable! Oscar is an 18 month old Lancashire Heeler and Arthur, a 17 year old big white housecat. Arthur actually used to help Oscar climb on the couch. Oscar and Arthur lived with Robert Bell, 73, and his wife, Mavis, of Wigan, Greater Manchester, UK.
One day Arthur's time had come and Mrs. Bell lovingly dug a resting place for him in her garden as Oscar watched her lower his best friend into the hole.
The next morning the Bells awoke to a startling sight, Arthur, the dearly departed, curled up in his cat bed with Oscar curled up next to him. Arthur's fur was gleaming white.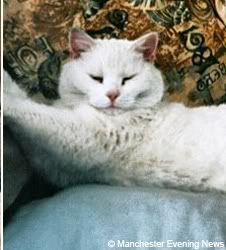 During the night Oscar had missed his best best so much that he decided to bring him back.
Mr Bell said: "He had managed to climb out through the cat flap in the night, obviously with the intent to get Arthur back. Bearing in mind that Arthur was a huge cat, Oscar must have used all the strength he could muster.
"Then he pulled him into the basket and went to sleep next to him. Arthur's coat was gleaming white. Oscar had obviously licked him clean. It must have taken him nearly all night."
What incredible love and devotion between animals!! Whoever thinks animals can't love better think again!
And now? Arthur has been re-interred in a secure resting place and Oscar has a new friend and playmate, a tiny kitten named Limpet, to occupy his mind and time.
Mrs. Bell said that Oscar is already very protective of little Limpet. 🙂
Email This Post
Like this post? Subscribe to my RSS feed and get loads more!