A Dog's Loyalty… 'Til the End
Thursday, September 13th, 2007 at 7:49 am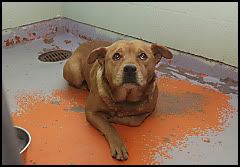 This story is both heart breaking and yet touching. A chow shepherd mix was found laying in the middle of the road guarding the body of his companion, a female German shepherd mix, after she was hit and killed by a car on Chambers Road near East 52nd Avenue.
Denver Animal Care & Control director Doug Kelley said, "When a companion animal is hit, they'll stand vigil. It's sad.It's kind of uncommon to see it in the middle of the road."
Kelley says the dog is in good health but visibly upset over this loss of his female friend.
"That's just unconditional love. They do that with their owner, and they do that with other animals, they feel loss and they feel loyalty," he said.
Kelley had received reports of the two dogs running loose for a couple of days. Neither had identifying tags although the female was wearing a blue nylon collar, nor were they spayed or neutered. When police were dispatched on Monday to look for the dogs they could not find them.
Police were called to the scene to help take control of the situation and direct traffic until animal control arrived.
Two 'good Samaritans' helped the surviving dog, who had almost been hit numerous times, by blocking and directing traffic until the dog could be moved out of the road.
"The chow didn't want me to get anywhere close to the dead dog," said Patrolman Bill Tyler. "I guess you could say (the dog was upset)."
The chow was "not real friendly" when animal control staff arrived to take her to the shelter, Kelley said.
The concern is that if the dog's continues to be difficult, it will make him unadoptable. Denver Animal Care & Control officials will assess the chow's behavior and health on Saturday. If it passes certain tests and has not been claimed by an owner, it could be available for adoption Monday, though its behavior at the moment isn't promising.
For more information: www.denvergov.org/animalcontrol or visit Denver Animal Care & Control at 678 S. Jason St.
Email This Post
Like this post? Subscribe to my RSS feed and get loads more!