A Happy Ending and a Young Hero
Tuesday, August 12th, 2008 at 9:50 am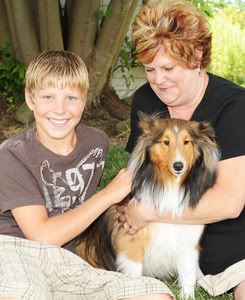 It always gives my heart a lift when I hear about a lost dog making its way home and a joyful reunion. Sometimes some of those stories have a special twist and this is just one of those that I want to share with you.
In Suffield, OH, a sweet little sheltie named Maggie went missing after a house fire. On July 20th, Rick and Jayelen Oaks' Galaxy Drive home caught on fire after the propane tanks exploded. Maggie, who is terrified of loud noises, took off after she was removed from the home by her owners.
For two weeks, the Oak's searched for Maggie, once seeing her in a cornfield. Jayelen called for her but Maggie didn't come so on the advise of her vet Jayelen went back to the field with some food and sat and waited. No Maggie.
"I brought a book and sat for an hour," Jayelen Oaks said. "She didn't come. It was so hard to leave."
Then last week, 13 year old Matthew Heater was riding his 4-wheeler in the field when he spotted Maggie. At the time he didn't know Maggie was a missing dog. He went to visit is grandparents and saw the fliers.
Armed with the dog's name, he went back to the field to try to find her again. After calling for her, his quest paid off and Maggie came to him.
"She looked really healthy," said Matthew, who speculated Maggie came to his families' home and ate dog food that had been left out for the familys' dogs.
Then came the good part, he got to call the Oaks with the good news!
"I spoke to the daughter, and I said "I think we found your dog,'" Laura Heater said. "Her mom must've been in the background picking up a word here and there, because I heard her screaming, "Did they find my dog?' and things like that. The daughter kept telling her to be quiet because she couldn't hear."

Then Laura Heater had a terrible thought " what if the dog wasn't Maggie, and she'd gotten the family's hopes up for nothing?

"She (Alysha Oaks, the daughter) asked me if the dog had one ear up and one ear down," Laura Heater said. "I said "please, Lord, let there be one ear up and one ear down. I turned around and looked at the dog, and sure enough, one ear was up and the other was down."

The Oaks family was waiting at the end of the driveway for the Heater family and Maggie to arrive.
Soon, Maggie was back in the loving arms of family members, and they were trying to give Matthew a check for a reward. (recordpub.com)
The Oak's had offered a $1000 reward for Maggie's return and most anyone would jump on that pretty quickly, especially a young teen but did Matthew? Nope, not a chance!
Not only was he a sweet a thoughtful young name, he was obviously raised the right way and has a good heart! Ya gotta love it! Especially when you hear so many stories today about the way so many teens and children are!
Rick Oaks wouldn't take "no" for an answer, and unbeknownst to the Heater family, he had tossed the check into their car.

"We were on our way home when my mother found the check in the car," Laura Heater said. "She said, "Matthew, they gave you a check for $100.' She gave the check to Matthew, and he looked at it and said, "That's not a hundred, grandma. It's a thousand.'"

Matthew returned the check.

"When we returned the dog, he said, "Ma, I think this is the best day of my life,'" Laura Heater said.

"He is my hero," Jayelen Oaks said.
I don't know about you, but this story left me with a big smile on my face and goosebumps on my arms. Wish I could share more stories like this. I just love happy endings and great kids!!
Email This Post
Like this post? Subscribe to my RSS feed and get loads more!