A Touching Story of Dogs Devotion
Sunday, December 2nd, 2007 at 8:43 am
Those of us who number dogs among our family members know of their love and loyalty and devotion. We know of their uncompromising and unconditional love.
Deanna Lorenz of Tennessee found out just how loyal and devoted her father's two Golden Retrievers were just recently. This story is both sad but very touching.
On September 24, Gary Lorenz, Deanna's 62 year old father who had been battling Alzheimer's, wandered away from his mountain with his two dogs, Merry and Pippin. A search for Lorenz was started just hours after he disappeared. Days and weeks of searching brought no results.
On October 20, Deanna finally got the news the had been both waiting for a dreading.
"I was sitting in (Dad's) living room when the neighbors came up and told us that he had been found," said Deanna.
A hunter had come across her father's body and more amazingly, his two Goldens, Merry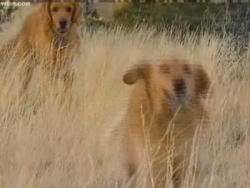 and Pippin were guarding it.
The coroner discovered that Lorenz had died 5 days after he disappeared in the woods, on September 29. That was when they put the story together.
For three weeks the two dogs had stood guard over their beloved master's body, protecting him from anything and everything.
The hunter who found Gary Lorenz said that Pippin was the most protective.
"Pippin was right by dad and wouldn't allow anyone close to him," said Deanna.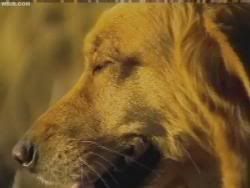 Sandee Lorenz, Gary's widow, calls the two dogs her "angels."
"I truly believe that had the hunter not found them the dogs would have stayed (with Gary) until they had taken their last breath," she said. "To know that they were with him when he passed from this world to the next, that he wasn't alone? I wanted to be there when he did that, but the Lord let him in that direction."
Yes, it is sad that Gary Lorenz died but in the end he had is most loyal companions by his side, protecting to the end and beyond. I've heard stories similar to this before, dogs standing guard over their master's bodies, refusing to leave. Even staying by their graveside.
A dog's love and devotion is an amazing thing. It will do us well to repay their love and devotion in kind. They ask us so little in return.
Source – WBIR
Email This Post
Like this post? Subscribe to my RSS feed and get loads more!