A Walton Hills, OH Couple Wants to Know Who Killed Their Dog
Friday, July 6th, 2007 at 8:17 am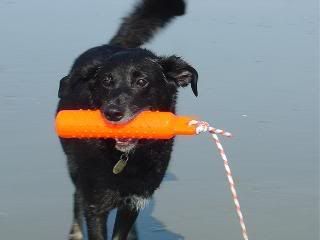 This is just sad! I can't even imagine how I would feel if I let one of my babies out and then 15 minutes later found them dead. 🙁 How heartbreaking and devastating and even worse to have no clue who, how or why.
A Walton Hills couple hopes a sign posted in their front yard will lead to answers about their beloved dog's death.

Joseph Klukan let his dog Cappie out Thursday morning, and fifteen minutes later, he found her lying in the front yard. She died an hour later of a punctured lung.

Klukan placed a giant sign in his front yard that reads — "Who Killed Our Dog". People passing by have placed flowers and mementos at the sign in remembrance of Cappie.

"We would just like to know what happened to her, or if someone saw a car hit her or a deer hoof her or someone going off the road to hit her. We really just don't know what happened to our dog," Klukan said.

Traci Putinski passes by the Klukan home every day, and every day she said she would see Cappie.

"To think somebody would kill the dog and take no responsibility and just drive off. If they're gonna leave the dog the way that it was and just drive off, the sign doesn't do anything, but touch the hearts of those who care," Putinski said.

Klukan said he understands accidents happen, but just wants to know what happened in the final minutes of Cappie's life.

He and his wife rescued Cappie from a shelter. Klukan said Cappie was more than a pet, and he will miss her. (My Fox Cleveland)
Email This Post
Like this post? Subscribe to my RSS feed and get loads more!