Abandoned Kittens Find Guardian 'Angel' in Pitbull
Thursday, August 21st, 2008 at 10:10 am
This is one pitbull that was very appropriately named, 'Angel', especially to some abandoned kittens!
Nevada Humane Society shelter volunteers, Frank Gomez and 9-year-old stepson Joel Fontes, were out walking one of the shelter dogs, Angel, a 2 year old female pitbull/boxer, when her attention was drawn toward something in the bushes. She could not be distracted.
Finally Gomez decided to investigate to see what Angel was so obsessed with and he found a box of tiny three week old scared, hungry kittens that someone had callously dumped. The temps were in the 90s and if Angel hadn't found the babies, it's doubtful they would had survived.
One of the tiny kittens tried to scamper away from its would be rescuers before a shelter worker could be summoned to take the kittens to safety. Angel wasn't having any of it! She tracked down the the tiny runaway kitten and brought it safely back where she gave it to Gomez.
"Angel is a sweet, playful dog who can now add hero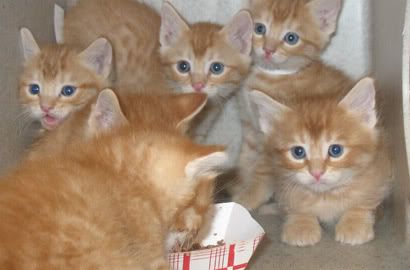 to her repertoire," said Diane Blankenburg, a shelter spokeswoman. "Angel, herself a rescued dog, has paid back six-fold by rescuing these six little abandoned kittens."
Pitbulls are notoriously difficult to adopt out because of their undeserved reputation due to media hype and breed bans. Maybe this bit of good press can help this sweet girl find the loving family and forever home she so deserves!
Hey, breed ban enthusiasts, chew on this one!!
Angel is available for adoption at the Nevada Humane Society, 2825 Longley Lane.
If you would like to adopt Angel, foster the six rescued kittens, or donate , call 856-2000 or e-mail info@nevadahumanesociety.org
The shelter is open from 11 a.m. to 6:30 p.m. Sunday through Friday and 10 a.m. to 6:30 p.m. on Saturday.
Email This Post
Like this post? Subscribe to my RSS feed and get loads more!