Abused Dog Steals a Heart and Gets a New One
Sunday, October 14th, 2007 at 8:45 am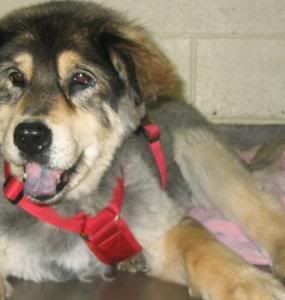 Meet Sunny, a 13 yr old, chow husky mix who spend most of the first 13 years of her life tied to a tree next to an abandoned house in Conneticutt.
Rescued from this life of neglect by Animal Control in January, she was more than ready for a new life.
When she was examined by Gregg Rapoport, 37, a cardiologist for the Massachusetts Society for the Prevention of Cruelty to Animals in Jamaica Plain, he said the pattern of neglect/abuse was obvious. After workers managed to clip about 30 lbs of matted fur and feces off her, Rapoport found that Sunny was mostly deaf, severely malnourished and her heart beat was about 50% of normal.
"Every case is a little bit different," he said in an interview last week. "But what I think stood out about her is that she really had the right spirit."

Meanwhile, a neighbor from Norwich, Conn., who knew Sunny, followed up with the MSPCA about the dog's condition and got to work raising almost $6,000 for her medical care, including a pacemaker to take some of the strain off her ailing heart.

Sunny, who underwent the treatment in March, is among the five to 10 canines that receive a pacemaker from MSPCA staff each year, Rapoport said.

"These are pacemakers that originally come from human hospitals, where they perhaps outlived their technical shelf life but still have plenty of battery life in them for our purposes," he said.

A month after the surgery, the dog that he helped heal had stolen his own heart, and Rapoport took Sunny home to live with him.

"Although she was tied to a tree for 13 years, she doesn't show any sign of looking back," he said. (The Boston Globe)
Email This Post
Like this post? Subscribe to my RSS feed and get loads more!