Abuser Arrested for Third Time
Tuesday, November 4th, 2008 at 8:24 am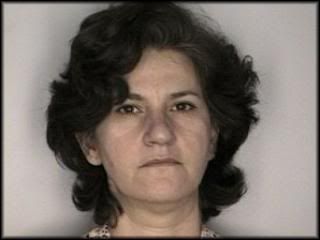 In May of 2007, 43-year-old Cynthia Cuervo was arrested after 5 starving dogs were found on her property. Charges were dropped after she surrendered the dogs. In February of this year 18 animals were found, 16 live dogs, one dead dog and one cat. After that arrest, Circuit Judge Walter Heinrich barred Cuervo from owning any more animals.
Now Cuervo is back in hot water again while the civil case from the February arrest is still pending. Again numerous starved and emaciated dogs were found on her property.
A Hillsborough County sheriff's deputy familiar with Cuervo's case was on routine patrol in the neighborhood when she heard dogs barking inside Cuervo's home at 8202 W. Crenshaw St., Tampa, FL. When authorities investigated they found 14 dogs that were "hungry, thirsty, grimy and very, very smelly."
Cuervo claimed the dogs belonged to her children.
The dogs were all small breed except for a Great Dane and a German Shepherd. Animal Services spokeswoman Marti Ryan said the dogs seem to have a good disposition and she hopes they can be rehabilitated in time for a pet adoption expo at the Florida State Fairgrounds on Nov. 15 so they can all find good homes.
Cynthia Cuervo was arrested and charged with five counts of felony animal cruelty and 13 counts of misdemeanor improper confinement of animals.
"She has violated a direct order of a judge," Ryan said.
Cuervo was being held on $16,500 bail last night at Orient Road Jail. Sounds like she needs to stay somewhere that she can get her hands on any more animals.
This woman is a hoarder and serial abuser and I sincerely hope the judge doesn't let her walk away so easily this time. If not for an alert deputy, one can only wonder how long those dogs were have survived in her "care."
Email This Post
Like this post? Subscribe to my RSS feed and get loads more!