Abuser of More than 50 Dogs Gets Jail, Probation
Friday, January 22nd, 2010 at 10:12 pm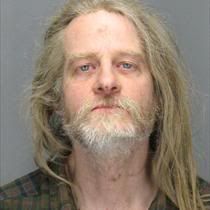 Robert Brunette, 46, of Boulder Creek, CO, was arrested this past summer after police responded to a call about "animals crying in pain" at his property at 100 block of Hartman Creek Road. What they found almost defied description; dogs found locked in small cages covered in their own urine and feces, others running loose over the property. Puppies as young as only two days old were rescued. One old dog was found in the cab of a truck where it had probably been living for a year or two, the cushions were torn up, covered in urine and feces, no food or water. Inside the house, animal control and sheriff's department investigators found one dog locked in a crate with no food or water and a dog that weighed only half what it should have. The dogs, many of them with ribs protruding, had mange, worms and scars. Many were almost wild and had never been socialized. Many were scared and timid, others were covered in scars from fighting, fighting for food with each other.
In all, after puppies were born, more than 50 dogs were rescued.
Brunette was known for breeding and selling dogs and trying to create his own line of guard dog.
There were also dog skulls and paws scattered around the property and hanging from his "house." The whole situation turned into a fiasco after he was released and took off, a $50k warrant was sworn out and he was eventually taken into custody again.
Initially facing 10 counts of animal cruelty, including felony charges of neglect, Brunette could have been facing up to four years in state prison plus thousands in fines but we should have known that would never happen, even with all the BS surrounding this case.  Brunette was sentenced by Judge Paul Marigonda to one year in jail plus 5 years probation. He will also have to pay restitution in the amount of $150k to county Animal Services Agency to cover the officers' time, veterinary bills and boarding fees for his dogs. He is not allowed to own dogs and he must undergo counseling.
Well, I guess we should be happy for something but if you'd been following the case from the beginning you'd know that as usual, this is no more than a slap on the wrist. Those dogs in his case suffered and suffered for a long time, no probation for them, just "jail" for many that were stuck in cages or other makeshift enclosures, starvation, sickness and more. But then again, they were "just dogs" so who cares? That's the mentality so many have and that's why so much suffering happens and continues to happen with little to no ramification for the abuser.
Will things ever change? Only if we take a stand and demand changes and force our legislators to enact stronger laws and let our judges know that these "slap on the wrist" sentences are not acceptable. We put these people in office, one way or another and we can remove them too. I think that's something too many of them forget. I think they need to be reminded!
Email This Post
Like this post? Subscribe to my RSS feed and get loads more!