Acid Poured on Dog's Back – Horrific Abuse!
Wednesday, July 25th, 2007 at 10:07 am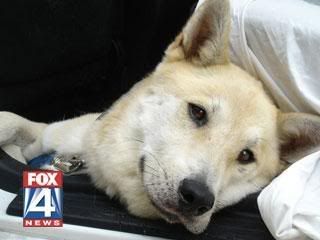 It could only be the act of a seriously depraved and cowardly individual who could pour acid on an innocent dog! Did that person stand there and watch as the acid did its cruel work burning off the fur and eating through the layers of skin as the poor sweet dog writhed in agony, wondering what was happening, why he was in such horrific pain?
FORT WORTH –Loraine Standifer first met her shepherd-mix dog named Amir through a rescue group called South East Dallas Humane Society."He's the perfect pet," she said, looking at photos of her dog during a happier time. "When I got him, he was already neutered and had his shots."

When Loraine was moving, she asked a friend in Forest Hill, an area south of Fort Worth, to watch the dog for a few days. Amir stayed in the back yard, until after work the friend noticed his wounded back. She thought another animal somehow attacked Amir, but that wasn't the problem. The skin was literally burned off, but the good-natured animal was still cheerful.
(WARNING – GRAPHIC PICTURES)
"He was a good sport about it, trying to wag his tail," said Loraine, who rushed back when she heard the news. "He'd lean against me and everything."

Loraine couldn't find a vet who would work on a payment plan. The maggot-infested wounds were extensive and would need expensive surgery and care. So Loraine called the rescue group who helped her adopt Amir, and they put her in touch with Dr. Granville Wright, who operates a practice out of Denton.

Dr. Wright says someone poured what looks like a corrosive industrial chemical on Amir's back that burned off or killed much of the skin. He says it's one of the worst cases of animal abuse he's ever seen.

"It was in the middle of his back," said Dr. Wright. "If they left a puddle of it somewhere he wouldn't just lay down and go roll around in it. I mean, somebody poured it on him."

Loraine says Amir has never been aggressive, so she doesn't understand why this happened. And she's worried that the culprit could do something even worse.

"If they're doing it to an animal, I feel like they would do it to a person," she said.

Dr. Granville Wright is treating the animal at no charge.
If you'd like to donate, please call his Denton practice at: 940-382-6939

Fort Worth Animal Control is investigating the case.
If you have information, call: 817-392-3737. (My Fox Dallas-Forth Worth)
It's sad to think that any self respecting vet would turn this dog away after seeing the extend of his injuries, worrying more about padding their pocket then the pain this poor dog was in!! Thanks God for Dr. Wright and other vets like him who still remember the reason they became a vet, to take care of animals and to alleviate their pain and suffering, not to fatten their wallets! It's not that I believe doctors should not be paid for their services but I do believe once in a while everyone needs to do something just out of the goodness of their heart! Thank you Dr. Wright!!
And if you know anything about this, who did this cruel and cowardly deed, please call FW Animal Control!! This is not someone who is safe to have around pets or people!
Email This Post
Like this post? Subscribe to my RSS feed and get loads more!