Addendum To Didsbury Canada Dog Abuse Story
Monday, May 14th, 2007 at 1:52 pm
Well, the 17 yrs old abuser's penalty has everyone shocked and outraged – Dog Killer Get Probation – Animal Activists Shocked and now the community, dog lovers and animal activists all over are watching to see what will happen in the final chapter of this horror story!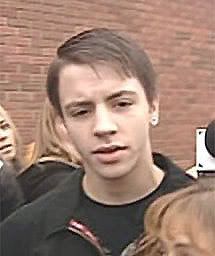 Daniel Charles Haskett's court date is set for May 23. Charges of animal cruelty stem from an October 2006 atrocity.
Passersby found the dog, a female collie-Lab cross, still alive but lying in a pool of blood in the street earlier this week. Her four legs were bound together with duct tape, a bag was covering her head and there was a tow rope around her neck. It appeared she had been dragged behind a vehicle.

The veterinarian called to the scene said the rope around her neck was so tight it caused one of her eyes to pop out. Her neck, back and pelvis were also broken.

The vet euthanized the dog immediately.

The case sickened even veteran police investigators, and the Didsbury RCMP detachment fielded dozens of calls from people expressing "outrage at the case," said Sgt. Kevin O'Dwyer. (from Pet-Abuse.com, Octoer 8, 2006)
Her (Daisy Duke's) original "owner" had moved to Calgary and could not find a place that took dogs so he left her with his mom Angela and 3 brothers. His brother Daniel Charles Haskett (19) was one of the men that did this to her and has been charged. Since this happened, Daniel has been disowned by his brother.
The Haskett family still have a dog living with them in Didsbury – Diesel, a Bichon cross. Both the RCMP and the Alberta SPCA have deemed the environment is safe for Diesel so she will not be removed from the Haskett home. (From Voice for Animals Humane Society)
You can read the original article here.
Cases involving animal cruelty have a wide interest.

Ontario Liberal MP Mark Holland last month introduced a private member's bill aimed at reforming animal cruelty provisions in the Criminal Code.

Holland said animal cruelty laws haven't been modernized for 100 years and are "woefully inadequate."

The current law allows for six months in jail and-or a $2,000 fine for an adult.

When an animal is found mistreated, it inevitably raises questions about the people who do such things.

Battle and Randy Lockwood, a senior vice-president with the American SPCA, told resource officers at a safe schools conference Monday in Edmonton that cruelty to animals by young students can be an important warning sign of future violent behaviour against people.

In an interview, Lockwood stressed that signs of aggression toward animals shouldn't be taken lightly by teachers, parents or authorities.

"One of our messages to law enforcement officers is this may be considered a so-called minor crime, but it is a crime that often allows you to intervene at an early stage or early age."

People who intentionally hurt animals are four to five times more likely to commit violent crimes than the general population, Lockwood said.

He also said most offenders start abusing animals when they are still children around the ages of seven or eight.

"It gives the individual an opportunity to experience gaining a sense of power and control through the suffering of others. And if it has no consequences, it's certainly likely to be repeated." (From Brandon Sun)
More than 100,000 signature were gathered calling on the federal government to strengthen federal animal cruelty laws.
I'll keep you updated as this unfolds. Please feel free to comment on this atrocity!
Email This Post
Like this post? Subscribe to my RSS feed and get loads more!