Adopt a Dog… How About 27?
Wednesday, December 17th, 2008 at 9:37 am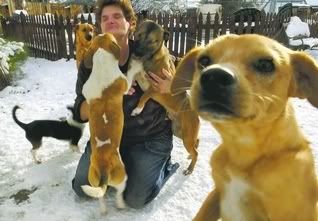 After her beloved 2 yr-old pointer, Barney, was killed in November, Colleen Spalioni decided to adopt another dog and she wanted another pointer like Barney.  She found exactly the right dog online at the DogsInDanger.com website.
Colleen lives in Spanish Springs, NV.  The dog she found was near Bakerfield, CA. So she gave a young neighbor, Bordon Bitt, $50 to accompany her on the 788 mile round trip to get the dog she wanted.
When Colleen got there and saw all the dogs slated for euthanasia, her heart just broke.  How could she take just one when so many others were going to die that day, including little puppies.  Colleen decided she couldn't just leave them so without thinking about any possible ramifications, she adopted and adopted… and adopted, until she'd adopted 27 dogs.
"I didn't realize so many animals were dying every day until I saw it with my own eyes," she said.
With the help of her traveling companion, Bitt, and animal control officers, they loaded 27 dogs, including 10 Chihuahua mixes, seven 2 week-old orphaned Queensland heeler-shepherd mix puppies, one purebred Chihuahua, a Jack Russell, a poodle, two shepherd mixes, two miniature pinschers and an Australian cattle dog mix, into her truck and headed back home.
Sadly one of the orphaned puppies died before she made it home and two others died Monday, they were just too young but she had wanted to give them a chance rather than euthanasia.
Bitt turned into about as much of a softie as Collen was and handed her back the $50 she gave him to accompany her on the trip so that she could put it toward food and spay and neuter for all the dogs.
Unfortunately a neighbor of Colleen's was not as accommodating. They called the police when the police about the barking, the county got involved and Colleen was told that she was allowed to keep only three dogs.
Colleen admits she went overboard and says she never do it but how could she not do this, how could she leave them.
"I didn't realize I was going to be in so much trouble or that so many people would be so angry at what I did," she said, crying. "But after I lost my dog who gave me so much unconditional love, I couldn't leave these dogs to die."
So she had to find a way to find homes for most of the dogs and quickly too, her husband was out of town and didn't know what she had gotten herself into. He's due back today.
With the help of a newspaper blog, Colleen managed to find homes for most of the dogs in 24 hours, by Tuesday. Only four dogs remain to find homes. One was returned by the adoptee Tuesday, but another also was adopted out.
The remaining dogs are an Australian cattle dog, an Australian shepherd/pointer mix, a shepherd-pit mix and the Rottweiler mix that needs some extra care. The 11 month-old female Rottweiler puppy's collar had been embedded in her neck over six months. Colleen took her to the vet for care but she cannot keep her through her recuperation and Colleen needs someone to adopt or foster her who can give her the extra time and care she needs until she's healed.
So not only did Colleen manage to rescue so many from death, she also made sure they had new, loving homes. This is going to be a wonderful Christmas for many this year, families who have loving new pets and dogs who just days ago were facing death.
Thanks you Colleen, for having the heart and the love to do what you did and thank you to all the families who stepped up and welcomed a new family member. Whoever said there are no guardian angels never met a rescuer!
Email This Post
Like this post? Subscribe to my RSS feed and get loads more!