After 2 Years, Missing Dog Reunited With Family
Thursday, May 31st, 2007 at 9:36 am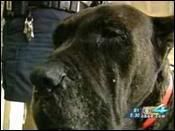 In the wake of Hurricane Wilma 2 years ago in FL, Bella, a black brindle Presa Canario mix, went missing. Initially, accustomed to her wandering their two acre property, they expected her to show up as she usually did.  Then they found she had dug her way out under a fence.  Her family scoured the area and put up posters to no avail. They were heartbroken but eventually gave up.
Now fast forward and bring in Miami Dade Animal Control Officer Lisa Yambrich. Lisa got a call about an 'animal in distress' and expected the worse as is normally the case in such a situation. When she arrived she found this large back dog just sitting there as though waiting for her and she looked 'pretty far gone'
"She's extremely undernourished and anemic, and her gums were white" from blood loss, said Yambrich. "I'd never seen a dog with so many ticks."
The dog followed Yambrich to the van and hopped in. At the shelter they found that she had been microchipped.
The family was ecstatic to have Bella home again. Her human, Chris Devilliers, 14, was so excited he skipped an end of school party and his Mom, Dharma, was just incredulous.
Bella is now home, cleaned up, being fattened up, getting the love of her family and getting to know her fur sibling Thor, a one year old Presa Canario.
I just love happy endings!! And without her microchip, the chances that Bella would have made it home are slim to none! So do yourself, your family and your canine companion a big favor, Microchip Your Dog! 😀
Email This Post
Like this post? Subscribe to my RSS feed and get loads more!