After Three Years Many Kentucky Animal Shelters Still Not in Compliance
Monday, March 17th, 2008 at 9:15 am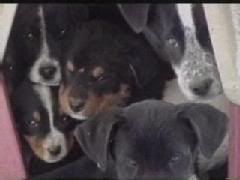 Three years after a law was passed to force Kentucky animal shelters to adopt more humane standards, many are still not in compliance. Dogs and animals still go without proper shelter, freezing outside in the winter, sweltering in the summer, short food rations, unsanitary conditions, lack of ventilation, poor lighting and more.
For 10 years WLKY chronicled and exposed the inhumane conditions at shelters statewide, and this forced "legislation outlawing gunshot euthanasia, providing money to struggling shelters and forcing counties to comply with minimal shelter standards — things like protection from the weather, including heated quarters during cold weather, and adequate lighting, ventilation and sanitary conditions."
But now, three years later, investigation finds little change and in some instances, there is still not even a shelter facility!
Facilities like the one in Morehead are staffed by volunteers, where they're begging for more help in a written memo that states, "We do not have a facility."

It's the same situation in Grayson County, where demolished dog houses are piled in rows. Volunteers who run the place claim they are seldom reimbursed, and they note with only 12 indoor runs, so many dogs are outside in the cold with frozen water buckets, struggling to stay warm.

"I'm getting a lot of e-mails and calls from people who say their counties are not complying with the new shelter standards," said Pam Rogers, Kentucky program coordinator for the Humane Society. "They don't provide proper shelter for the animals from heat or cold, don't provide proper disinfectant, don't provide proper food and care and they don't have access to get the animals out."

When WLKY visited Owen County, a veteran police officer couldn't tell us where the dog pound was. Neither could the dispatcher. We found it in the dog warden's back yard.

"There is no shelter in Owen County," said animal rescuer Hilari Gentry.

Things are so bad here, animal lovers like Gentry rescue animals from the dog warden's yard, take them home and try to get them adopted.

"I think it's just an issue of community awareness and community priority," she said. (WLKY)
Situations like this need to come to public awareness to force change.   With more social awareness of animal concerns, basic humane care should be a minimally accepted standard, not something people need to work up to.  It should be a given.  It's said that a society is judged by the manner is which they treat their animals so what does this say about us?  Not much!
Email This Post
Like this post? Subscribe to my RSS feed and get loads more!