Almost Heaven Denied License, Banned from Buying, Selling, Breeding Dogs
Saturday, February 7th, 2009 at 7:05 am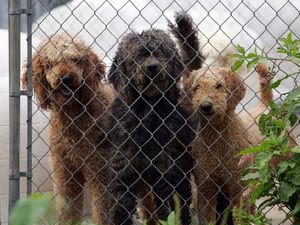 In a first, citing a provision under the new PA Dog Law, the State Department of Agriculture barred Derbe Eckhart, owner of Almost Heaven Kennels, from selling, buying or breeding dogs. In January, the Dept. of Agriculture denied Eckhart's kennel license and until a decision in made on Eckhart's appeal he's basically out of business. Now if they can just keep him out of business!
In October, a raid on Eckhart's kennel, inappropriately named, Almost Heaven, hundreds of violations were noted although for some reason the charges involved only 43 dogs, nine cats and a guinea pig. Eckhart and an associate were charged with numerous animal cruelty charges and that case is still continuing. You can read more on that at "Almost Heaven – Hell for Animals."
In January, Investigators from the state Bureau of Dog Law Enforcement executed a search warrant for records to find how who exactly owns the place these days and whether it is complying with the state's dog welfare laws. Seems the Almost Heaven website, which is now carrying an "Out of Order" graphic, showed some changes.
It's home page read;
"T.A.S. Kennels has purchased Almost Heaven Kennel and is now operating in the same location. We are new ownership and new management. We are offering services for dogs and cats to the public. Boarding in an airy and friendly setting, designed for the comfort of your companion. Grooming by a professionally trained show groomer, providing the TLC you expect and conforming to breed standards.

"We invite you to come and visit us. Tell us what you're seeking in a new companion and we'll show you what we may have and if we don't have it, we will help you find your new companion. We are here to serve you and our community."
It listed as the owner one April W. Oddly enough, Eckhart has an assistant named April Welter. Now the problem here is that the Pennsylvania Department of State has no record of a T.A.S. Kennels. There's no record of the transaction with the township or county.
So, in January, along with denying Eckhart's license, they also issued a cease-and-desist order against T.A.S. Kennels.
Now Eckhart can't do anything except for transfer dogs to licensed shelters for adoption. He did pass his Jan. 8 inspection which noted 418 dogs on the property. On Friday, when the order barring Eclhart from doing much of anything was served, wardens did inventory the dogs and although there is no word how many dogs were on the property at that time, wardens will monitor the population during the appeal.
If the appeal of the license denial fails, Eckhart would be allowed to keep no more than 25 dogs — the maximum number of dogs that a person can keep without getting a kennel license.
From my perspective, any sane person would look at Eckhart's record, dating all the way back to 1988;
This convicted animal abuser's record goes back at least to 1988 when 45 severely/grossly malnourished and diseased dogs were seized from his Leighton, PA kennel. He was convicted of 32 animal cruelty charges, fined and given a jail sentence.

In 1989, he was suspended from the AKC for 30 years. In April of 1990, he was convicted after 10 puppies died from 'lack of sustenance.' In May of 1991 he was fined for operating an unlicensed kennel in Weissport, PA. In June of 1991 he was fined again for operating an unlicensed kennel in Allentown, PA. In April of 1999 Eckhart became the owner of Almost Hoe kennels and was found by the AKC to be using the alias 'Skip' Eckhart to register litters.

In 2004, the AKC filed a civil suit against Derbe "Skip" Eckhart and Lorrie Eckhart. They were granted a permanent injunction and damages totaling nearly $9,000. The injunction bars the Eckharts from using the AKC name in connection with their dog breeding operation. Bottom line, they were given a lifetime ban by the AKC.
… then take a look a the photos and video from the October raid, and deny him the license and make sure he can never have another kennel license, ever!
But then again, we all know about animal cruelty and justice. They don't seem to be partners. Justice is so seldom ever served and the innocents continue to suffer.
The case against Eckhart will continue Feb. 18 in the Lehigh County Courthouse, guess we'll continue to wait… and hope….
Email This Post
Like this post? Subscribe to my RSS feed and get loads more!