Almost Heaven – Hell for Animals – VIDEO
Thursday, October 2nd, 2008 at 10:52 am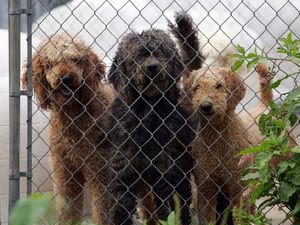 Update 2/7/09 – Almost Heaven Denied License, Banned from Buying, Selling, Breeding Dogs
Update – Almost Heaven Kennel License to be Revoked!
The name Derbe Eckhart is well known in certain circles, like state and federal law enforcement. This convicted animal abuser's record goes back at least to 1988 when 45 severely/grossly malnourished and diseased dogs were seized from his Leighton, PA kennel. He was convicted of 32 animal cruelty charges, fined and given a jail sentence.
In 1989, he was suspended from the AKC for 30 years. In April of 1990, he was convicted after 10 puppies died from 'lack of sustenance.' In May of 1991 he was fined for operating an unlicensed kennel in Weissport, PA. In June of 1991 he was fined again for operating an unlicensed kennel in Allentown, PA. In April of 1999 Eckhart became the owner of Almost Hoe kennels and was found by the AKC to be using the alias 'Skip' Eckhart to register litters.
In 2004, the AKC filed a civil suit against Derbe "Skip" Eckhart and Lorrie Eckhart. They were granted a permanent injunction and damages totaling nearly $9,000. The injunction bars the Eckharts from using the AKC name in connection with their dog breeding operation. Bottom line, they were given a lifetime ban by the AKC.
An now Derbe 'Skip' Eckhart is back in the news and in more hot water after a raid Wednesday on his Lehigh County dog kennel, Almost Heaven.
After months of undercover investigation stemming from customer complaints, SPCA agents raided the property at 4202 Chestnut St. on Wednesday afternoon with three warrants in hand.
The smell alone was ominous enough as investigators rolled into the Almost Heaven kennel Wednesday afternoon to search for sick and neglected animals: a gag-inducing stench of feces and decay detectable from the street outside the Upper Milford Township property.

Inside the kennel, which passed state inspection in August, the scene was horrific: a freezer containing 65 animal corpses; dogs sharing undersize crates and covered with their own feces; dead guinea pigs starting to decompose; a pot-bellied pig sharing quarters with scores of birds; more than 100 cats and a menagerie of other creatures in various stages of neglect.

Some had respiratory problems, others had eye infections, others had open sores on their skin. Many had no food or water. One official estimated there were 800 animals in all, including monkeys, miniature horses, turkeys, geese, guinea hens and swans.

A day-old puppy died as it was being treated, while others showed signs of dehydration and extremely low blood sugar. Some lactating dogs had no puppies with them, suggesting the pups had been removed prematurely. (The Morning Call)
Dead guinea pigs littered the ground between the outbuildings, 65 animal carcasses in a freezer, small dogs crowded shoulder to shoulder in double-deck kennels, and larger breeds, including Great Danes and St. Bernards, housed four to six in an outdoor pen. Inside one house were dozens of dogs, cats, parrots, chickens and hamsters, some roaming wild and others stacked in cages stuffed in every room. Most had no food or water and were covered in their feces.
Oh yes, Almost Heaven was certainly hell!
There were 56 sick animals removed immediately from the property for treatment. In a tentative deal with the PSPCA, Eckhart will surrender 100 animals in addition to the 56 already removed. Claimed as personal pets, 16 of the 56 sick animals will be returned to Eckhart with the stipulations that they must be vetted. As part of the deal, PSPCA will have unlimited access to the property for 6 months and Eckhart must initiate clean-up immediately.
As horrific as all this is, the scary thing is that Almost Heaven kennels was given a clean inspection in August!!
When asked if it would take more than two months for the kennel to reach its current condition, PSPCA investigator George Bengal offered a resounding "Yes."
So then how the hell did this house of horrors get a clean inspection report in August??
Bureau Warden Orlando Aguirre refused to comment on the discrepancy between his agency's all-clear August inspection and the abysmal conditions PSPCA officials said they found Wednesday. "We'll refer all comment to [headquarters] Harrisburg," he said.
Jackie Arney, who lives across the street from the kennel, said she wasn't surprised by the raid. "You hear [the dogs] screaming and crying all night," she said. "I thought sooner or later someone was going to come and get them."
This is an excerpt from an excellent column by Bill White of The Morning Call. For years he had been cataloging Eckhart's misdeeds and had a chance to be a part of the 'convoy' that headed toward Almost Heaven kennels yesterday.
Almost Heaven was a hellhole.

They said it was vastly overcrowded, with dogs stacked on top of one another in tiny cages. Indescribably filthy, with animals walking and sleeping in their own feces and their coats covered with excrement and urine.

They described sick animals. Frightened animals. Injured animals. Dehydrated animals.

Even dead, decomposing animals, in plain sight.

It wasn't just dogs. There were cats, guinea pigs, fowl, horses, monkeys, even a pot-bellied pig. This guy is like the Doctor Doolittle from Hell.

SPCA vet tech Angela Messer, who had been knee-deep in all this, said, "It's a shame that he's been able to continue this way without anybody putting a stop to this."

It was a bizarre scene. Even from the street, the reek of feces was sickening. You could see filthy dogs trying to bark at us, except that they had been debarked, so they whispered at us.
By the time Bill White left, he said that Eckhart was facing up to 447 counts of animal cruelty — potentially carrying fines of $2,500 per count — and that dog law officials in Harrisburg would be deciding whether to yank his license.
So today, although he's smiling that maybe justice has finally come to Eckhart, like myself and so many others, he wonders why the hell it has taken to so long?
Conviction after conviction yet his kennel was allowed to hold the largest license issued by the state Bureau of Dog Law Enforcement, allowing it to have hundreds of dogs each year.
Word from Elaine Skypala, chief program officer for the Pennsylvania SPCA, is that Derbe Eckhart faces 500 counts of animal cruelty and fines of up to $2,500 per violation on allegations he failed to provide sanitary housing and denied animals veterinary care.
"Every place he was keeping animals was unsanitary," she said, adding that the SPCA would seek to shut down the kennel.
We can only hope and pray that someone manages to close this hellhole down and that this piece of trash, scum of the earth is relegated to his own hellhole!!
If you visit the Almost Heaven Kennels website, you'll see lists of dogs from Boxers and Chihuahuas, to Dobes, Poodles, Danes, Shih Tzus, Yorkies and more with prices for dogs and puppies ranging up to $3000. Even their mixed breed, 'designer' dogs go for up to $1500 and more. He even has a page for 'Rescues' with 'adoption fees' from $150 up $1000… for rescue dogs! They offer boarding, grooming, and stud services along with all the neglected, abused and sick dogs and puppies for sale.
Wow, what a deal!! For him, that is! Damn shame doesn't even begin to describe this! He's raking in the bucks off sick, neglected and abused dogs and he's a convicted animal abuser who shouldn't even have animals let alone be allowed to breed and sell them. Guess when there's this much green involved, it hides the red… and his hands must be stained with so much blood of the innocents…
UPDATE – Almost Heaven Kennel to Have License Revoked!
Well this is one bit of good news, Chris Ryder today confirmed the license issued to Almost Heaven Kennels of Upper Milford Township is being revoked but Derbe "Skip" Eckhart has 10 days to appeal.
Officials filed two charges of lack of veterinary care and unsanitary confinement against Eckhart, who has a history of cruelty to animal charges and other animal-related violations dating to 1988. The new charges involve 43 dogs, nine cats and a guinea pig. Eckhart has 10 days to enter a plea.

It was unclear why so few citations were filed, given that hundreds of violations were noted during the raid. (Morning Call)
Of course Eckhart is now saying that the charges are trumped up since the August 7 investigation showed no violations. The Ag Dept. will be looking into into the discrepancy between the Aug. 7 inspection and the humane officers' findings Wednesday.
State Rep. Doug Reichley, R-Lehigh, asked dog law officials how the August inspection could have found nothing wrong, considering the foul conditions discovered Wednesday.

"From their understanding, the conditions had deteriorated in an incredible short period of time, the last two weeks," he said.

But Howard Nelson, executive director of the state SPCA, doubted that claim.

"I find it hard to believe that this happened just in a period of six to eight weeks," he said.

Reichley later issued a statement with state Sen. Rob Wonderling, R-Montgomery, saying reports showed that kennel conditions were "beyond disgraceful."
Email This Post
Like this post? Subscribe to my RSS feed and get loads more!