An Outpouring of Love and Support for a Crippled and Abandoned Dog
Wednesday, February 6th, 2008 at 2:26 pm
Chocolate, the broken, crippled and abandoned dog that I introduced you to yesterday has had an amazing change of fortunes! Due to an outpouring of love, support and most important for Chocolate right now, donations and resources, he has a chance at a future. Not sure exactly what that future will hold at the moment, it depends on some different factors.
Yesterday after Chocolate and Sonia Ayala's story became public, Ayala started receiving calls, so many that after just a few hours she filled up three pages with names and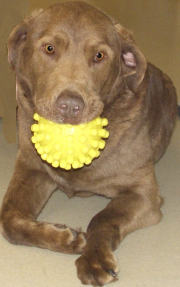 numbers of people who wanted to help. So many that her phone gave out! Calls came from all over the country, coast to coast, such an outpouring of love and support that Chocolate's future is much brighter now!
"I can't stop thinking how awesome people are. There's been an outpouring of generosity. … Everybody wanting to give," said Sonia Ayala, who took pity on Chocolate and picked him up from a field north of Pasco last month even though she didn't have the resources to care for him or get him veterinary care.
One of the first offers that Ayala took up on was to take Chocolate to Meadow Hills Veterinary Clinic. Tom Currie, 57, of Kennewick, paid to have Chocolate sedated and X-rayed, while the clinic paid to have him vaccinated and dewormed.
"My wife and I pretty much are both dog wimps. We're always moved by these kind of stories," Currie said.
An initial examination and x-rays showed what was obvious in detail. Chocolate's legs are in very bad shape. His left elbow is dislocated, and the radius and ulna bones in his right front leg are broken. Calcium deposits have hardened both separations. A pellet shot also was found lodged in the base of his neck.
A veterinary orthopedist from Washington State University in Pullman will be seeing Chocolate to ascertain that damage and figure out what can be done for him.
Dr. Janine Swailes, the veterinarian handling Chocolate's case, said she still couldn't rule out euthanasia as his best option but hopefully a better option would be for him to lose one of his front legs but retain the other and get by as a three-legged dog, she said.
"It depends on what the orthopedic surgeon tells us," Swailes said. "I can't rule [euthanasia] out completely. We don't want to think about that."
In spite of what he has gone through, Chocolate, who turned out to be an 18 month old Chesapeake Bay Retriever, continues to exhibit an enthusiasm for life. At the clinic, he clung to the spongy yellow ball that has been his companion throughout his ordeal. Even from his wire cage, he seemed to smile at the vets and assistants walking by. And when he was let out to stretch his good legs — and nurse his lame ones — he garnered pats on his coat and affectionate aw's from the clinic's staff.
"He is the nicest dog. I was excited to meet him," said Robin Powers, a job-shadowing student from Tri-Tech Skills Center.
For now Chocolate is being pampered and care for at Meadow Hills Clinic thanks to the kindness and generosity of people who opened their hearts to a story of a dog in desperate need. Abandoned, most likely hit by a car and neglected for six months, he now has a chance.
You can keep up with Chocolate's progress at Meadow Hills' website – HERE – and also make donations for his care and recuperation.
Donations for Chocolate's medical care are being accepted at Meadow Hills Veterinary Center, 8802 West Gage Boulevard in Kennewick, WA 99336, or by calling (509) 783-0399.
Source – Tri-City Herald
Email This Post
Like this post? Subscribe to my RSS feed and get loads more!