Angry Boyfriend Tosses Pitbull Puppy Over Balcony
Tuesday, December 2nd, 2008 at 8:28 am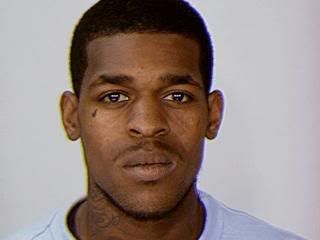 A 22 yr-old St. Paul man, Quincy Lee Morrow, has been charged with felony animal cruelty for throwing his girlfriend's 5 month-old pitbull puppy, Remy, off a second story balcony.
Police were called to a Maplewood apartment complex in the 1700 block of Adolphus Street Friday morning about 11 am on a complaint of criminal property damage.  Morrow had allegedly tossed his girlfriend's puppy off a second story balcony and smashed out the windows of her car after an argument over the puppy.
When police arrived, Morrow tried to get rid of them, he told him, "We don't need you anymore. My girlfriend does not want to press charges."
His girlfriend told police that she didn't know what to do, that she was afraid of Morrow and afraid of what he would do.
Of course he said the puppy was aggressive and bit him, although there were no bite marks.  He said he was letting Remy out of his kennel on the balcony when the puppy bit him and he "then lifted his hands in the air and the 27-lb. dog flew into the air and over the balcony."
Now that's really believable, isn't it? NOT!
Morrow's cousin, Derek Sanders, a supposed witness, said that Morrow picked up the puppy and had it close to his face when it barked at him and he dropped the dog and over the railing it went. Another likely story.
The poor puppy sustained multiple injuries and had to be euthanized. A vet told police that the puppy was very sweet and gentle, not aggressive at all.
Sounds like a hot-headed piece of trash venting his anger on an innocent creature. Good thing there were no little children within easy reach… or maybe that's next time.
Morrow faces up to 2 years in prison and/or a $5000 fine. No doubt he won't get anything close although the innocent puppy got a death sentence.
Another winner who will be back on the streets in no time making other people's live hell.
Email This Post
Like this post? Subscribe to my RSS feed and get loads more!