Animal Abuse/Neglect Charges Filed in Josephine County Puppy Killings
Tuesday, September 23rd, 2008 at 7:06 am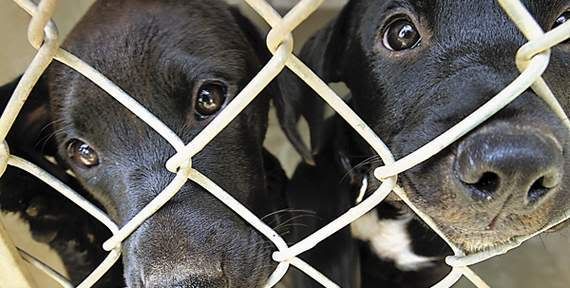 Last month, Josephine County Animal Shelter was broken into and 11 dogs were stolen. Four of the dogs, just puppies, were found beaten to death and laid out as if on display on a public road. The trash responsible for the crimes were found, Harley D. Hopkins, 22, and Jacob A. Goodboe, 16, Holly Hopkins, 16.
Initially the charges levied against them included seven counts of burglary, one count of theft, one count of criminal mischief and felony animal abuse. The felony abuse charges were dropped at the end of August due to a lack of evidence.
Now in addition to eight counts each of second-degree burglary, first degree theft, second-degree criminal mischief and second-degree criminal trespass, the suspects now face four counts each of first degree animal neglect.
The District Attorney's Office has been unable to find enough evidence to charge the suspects in the brutal deaths of four puppies they allegedly took from the shelter.
The remaining 7 dogs that were stolen from the shelter were eventually found and returned to the shelter but the shelter is still being plagued by break-ins.
There was yet another break-in and two dogs were stolen. Police believe that the owner of two pitbull puppies that were picked up broke in and took the puppies to avoid paying the fees to get them back.
Josephine County Animal Shelter in finally getting the funds it needs to tighten security after eight break-ins this year.
Josephine County commissioners on Friday approved spending about $19,700 to augment security and upgrade the shelter building to accommodate the security enhancements. That included $13,000 to revamp the building's electrical system, replace dilapidated roofing and replace doors.

About $4,300 will purchase razor wire for the fences around the shelter.

Another $2,400 will go toward a motion-sensitive alarm system that will notify police of intruders and sound a siren.

The shelter also will put about $1,500 in donations toward the alarm system. Detect All Security Systems and Caveman Fence, both out of Grants Pass, will donate the labor for installation of the new systems.

The commissioners denied an additional request for $4,500 to buy a surveillance system.

"We do think the razor wire and alarm system will be sufficient," said Belle Shepherd, county public health director who oversees animal control. "This is our first step. It's also the fastest step and if we need to look at cameras in the future we certainly will. The commissioners made that clear." (Mail Tribune)
Sadly it comes too late to save the puppies that were killed and unfortunately the trash that killed the puppies are not facing the charges they should be. Hopefully the rest of the charges against them will amount to some kind of punishment harsh enough to make up for it tho. We can only hope.
Email This Post
Like this post? Subscribe to my RSS feed and get loads more!