Animal Cruelty Charges Dropped, Animal Activists Angry
Friday, September 28th, 2007 at 8:03 am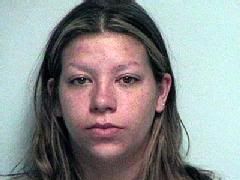 Two charges of animal cruelty against Alicia Roth, 33, of 306 Baltimore St, Middletown, Ohio and her husband Taylor Roth, have been dropped. In June, the husband and wife were charged with cruelty to a companion animal, a first-degree misdemeanor, for allegedly abusing and neglecting their 10-week-old brown husky mix puppy. The puppy suffered a broken leg after being thrown against the house by Taylor Roth during an argument and later died of parvo, a fully preventable disease, after being signed over to the humane society.
Then in August, Alicia Roth left her 8 yr old Rottweiler locked in a cage on a porch in the sweltering heat, while she went to Tennessee. She was charged with cruelty to a companion animal, a first-degree misdemeanor and improper enclosure, a third-degree misdemeanor.
And now both charges have been dropped against the couple! Oh, the judge did order the couple to pay the puppy's medical bills but the rottweiler has been returned to the couple.
"In the police report it says that Mr. Roth did throw the dog against the house," said Leland Gordon, executive director of the Animal Friends Humane Society. "So here we have a dog that comes in that's injured, and it seems like nothing is going to happen because of the legal system."
Alicia Roth claimed, regarding the rottweiler, it was just a misunderstanding with the person who was supposed to take care of the dog while she was gone that left the poor dog to languish in 90 to 100 degree heat for days alone, infested with fleas and a staph infection.
Was it also a misunderstand that a person would not call one time in four days to check on the welfare of a well-loved and well-cared for canine companion?
"Despite all the media attention and press (that) animal cruelty is getting in Butler County, some people just don't get it," said Leland Gordon, Executive Director of the Animal Friends Humane Society.
There are so many people fighting for the welfare of animals, trying to raise awareness and get the laws improved, then you have members of the judicial system like the judge here who just completely let this trash off the hook. No wonder people think this kind of behavior is acceptable when no one will do anything about it!
Source – WLWT
Email This Post
Like this post? Subscribe to my RSS feed and get loads more!