Animal Welfare Groups Suing Over Helmsley Fortune
Wednesday, August 12th, 2009 at 11:04 pm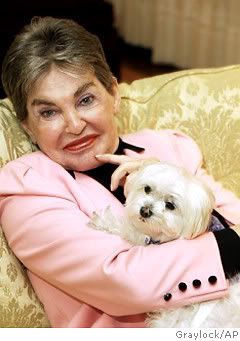 Well, I can't say that I'm surprised, except maybe that it took this long for some animal welfare groups to file a suit over the disposition of Helmsley's billions.  Looks like the lineup right now is, not surprisingly, the HSUS, as well as the ASPCA and Maddie's Fund.
The three groups filed suit Monday in Manhattan Surrogate's Court claiming that the trustees of Leona Helmsley's estate/trust have shown "disdain" for Helmsley's last wishes and want the court to throw out a judge's February decision that gave the trustees for the Leona M. and Harry B. Helmsley Charitable Trust sole authority to determine which charities would benefit from her estate.
In 2004 Helmsley revised the mission statement of the Trust that ordered that the money should be used for "purposes related to the provision of care for dogs." Prior to the revision the statement mandated that the money would provide health care for the poor, with an emphasis on children. The Trust is estimated to be in the 5-8 billion dollar range.
In April when the trustees started disbursing some of the monies, only a small bite went to the dogs; $136 million went to hospitals, foundations and the homeless and only a million went to any dog related agencies; $100,000 to the ASPCA and $900,000 to a guide dog group.
The trust, in a statement posted on its Web site, said Helmsley never wanted her fortune just to go to dogs.
"Did Leona Helmsley intend for this charitable trust to focus on the care and help of dogs, rather than people? Absolutely not," the statement said.
I think it's a damn shame that the courts and family have decided that now that the "Queen of Mean" is gone, they should be able to completely disregard her last wishes and do what they want with the monies she left.
Take her bequest to her little dog, Trouble; she left a $12 million bequest for the dog and a Judge decided to knock it down to $2 million.  Now, I'm not saying that a dog will ever need $12 million dollars but it was her money to do with as she chose, what give anyone the right to change that?
Or how about the fact that she specifically disinherited two family members and a judge decided to say the hell with that and give them, I think, about $6 mil each!
And now this!!  Although I do understand that a "Mission Statement" is not necessarily a legally binding document, it is something that shold be taken seriously  and with grave considerations.  I'm not saying that all her billions should "go to the dogs" but it's obvious that she had a deep and sincere caring for dogs and their welfare and when we're talking billions, one million is just a drop in the bucket!
Sure, the money, whatever is going to be left when they take out their fees and whatever, is going to go to good causes, but I really would have liked to see a bit more spared for what Leona Helmsley wanted it to be. What good is a will anyway if a court is just going to decide whatever it wants to decide, completely disregarding the "dearly departed's" last wishes?
Personally I'd like to see some of the money get into the hands of some of the local rescues and shelters that stuggle desperately and actualyl do for the dog and pets rather than into the hands of some big "animal welfare" group that actualyl does little "hands on" when it comes to animal welfare and that has millions and millions already squirreled away but I guess they are the only one with the financial backing to actually bring the suit to court.  Still, I'm not going to hold my breath that the dog are going to get any more than they've gotten or have been slated to get.
Email This Post
Like this post? Subscribe to my RSS feed and get loads more!