Another Dog Found Mutilated in Kansas City
Wednesday, August 22nd, 2007 at 9:16 am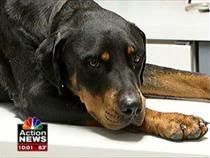 One week ago I told you about the 6 month old tan shepherd mix puppy that was found with one of her hind legs hacked off and now there's another mutilated dog!
Animal Control found a one year old male Rottweiler with part of his left hind leg hacked off on Tuesday afternoon near Kansas City Museum, 3218 Gladstone Blvd. There's no doubt this was done intentionally with something like an ax and that the two crimes are related. This poor dog has been wandering around suffering with this for days!
"It is a traumatic injury. This one was probably around three to four days old, so he's had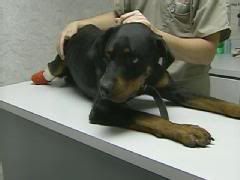 it for that long and been tolerating it," Dr. Heath Rose said.
Dr. Rose knows all too well what this guy needs, she's the same vet who took care of Misty, the 6 month old puppy, last week. Dr. Heath Rose said the dog's injury is identical to Misty's. She had to amputate Misty's leg higher to cover her exposed bone and she will also need to amputate the poor Rottweiler's mutilated stump.
Misty is now recovering from surgery.
"There may be somebody in that area that has a problem with dogs in the neighborhood or whatever the case may be causing this type of cruelty to animals," Dr. Rose said.
Don Pickard, Kansas City Animal Health and Public Safety assistant manager, said the dog appeared thin and malnourished, with no collar, no tags and no microchip to help identify him. But he was tame, loving and wagging his tail.
"He's a beautiful dog," Pickard said. "Even though his leg has been severed, he still seemed to enjoy the affection and the companionship of the officers and the vet as they gave him first aid and comforted him."
Like Misty, this guy is gonna have some tough times ahead with the surgery and recovery then he will need physical therapy. Right now he is resting at Raytown Animal hospital, on antibiotics and is heavily medicated.
Animal Control officers said people should be concerned because they say animal cruelty like this is linked to other crimes like child abuse, drug abuse and even serial killers.
Police did arrest Misty's owner on a DUI warrant and he's now facing deportation, but they do not believe he has anything to do with these animal cruelty cases.
It's just beyond understanding why someone would do something like this to these dogs. Animal rights organizations want this person caught and punished! Spay and Neuter Kansas City, appalled by the cruelty and fearful for the safety of other animals, is raising money to help cover the medical expenses for both dogs and to beef up rewards for information leading to whoever hurt him and Misty, a puppy found last week in the same condition. They are offering a $3,000 reward for information leading to a conviction.
If you'd like to donate to the reward contact:
SNKC Pet Assistance Program
PO Box 410303
Kansas City, MO 64141
816-353-0940
Anyone with information should call Animal Control at 816-513-9800
Someone out there knows something about the sick and twisted person whose doing this!! Is it you? Please, someone who could so callously hack the leg off of innocent and defenseless dogs is dangerous to anyone around them. Don't let them continue to get away with these cruelties!!
Email This Post
Like this post? Subscribe to my RSS feed and get loads more!