Another Dog Shoots Man Story
Monday, November 24th, 2008 at 8:23 am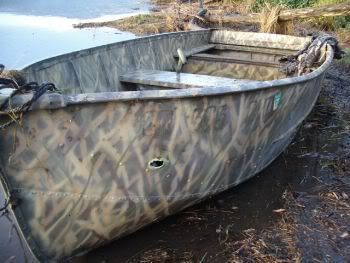 It's not too often you get to have a headline like that one but this is actually the second time I've done a dog shoots man story. In both cases it all starts with an unattended, loaded gun and for anyone who knows anything about guns, that's a big no-no.
This one took place this past Saturday in Tillamook, Oregon.  Seems Matthew Markum, 23, and his brother were out duck hunting with their 3 year-old yellow Lab, Drake. They were tying up their aluminum boat when Drake jumped into the boat and hitting or knocking into the 12-gauge shotgun that was left lying in the boat.
Either the safety wasn't on or it was knocked off when the pooch hit it causing the shotgun to go off. The shot went through the side of the aluminum boat and hit Matthew in the buttock and legs.
Matthew's brother took him to get attention and an ambulance took Matthew to the hospital where he is recovering from his wounds but no one blames Drake for the accident.
Henry Marcum, Matthew's father said, "He's a good dog. It's just one of those things. It's an accident."
Well, Matthew is going to recover and guess a lesson, though painfully, is well learned.  After Matthew is feeling better this is definitely a story he will be able to share for years to come, the time he got shot by his own dog. 🙂
Email This Post
Like this post? Subscribe to my RSS feed and get loads more!