Another Dog Shot by the Law
Saturday, November 24th, 2007 at 4:24 pm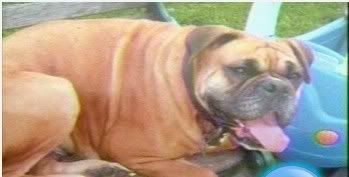 The other day I brought you the story of the Barboza Family and their dog Bobby being shot three times by a Teton County, Idaho deputy. Here's yet another story of a dog being shot and this time killed by officers of the law.
This took place in Prince Georges County, MD. Pam and Frank Myers were settled in their Accokeek home last Friday night watching a movie when they heard a banging on the door.
"All of a sudden I hear, bang, bang, bang, 'Open the door, police, open the door,'" said Pam Myers and Prince George's County Sheriff's Deputies burst into their home.
After that things went downhill. The couple was basically held hostage by deputies for most of an hour in their own home.
"They wouldn't let me go to the bathroom which is like seven feet down the hall," said Frank Myers.
"It was terrifying. I can't sit on my couch at night any more. I'm looking over my shoulder the whole time," said Pam Myers.
The next thing the Myers knew they heard shots coming from their yard where their 5 year old Boxer, Pearl, was.
"And I said, 'You just shot my dog" said Pam Myers, through tears. "I just wanted to go out and hold her a bit. They wouldn't even let me go out."
The deputy says he was in fear for his life but the Myers say that Pearl would bark but wasn't a danger to anyone.
The saddest part of this whole story? The warrant that the deputies was supposed to be serving was for a suspected drug dealer who lives two doors away at 14610 Livingston Road which was clearly marked on the house.
The deputies busted into the wrong house, basically held the Myers prisoner in their own home, killed their dog and then walked off afterwards without a word of explanation or apology ot even acknowledging that they killed the dog.
"It's just not right that people have to worry about – police have their jobs to do, but the house is marked over there. All they had to do was go look," she said. "I want the sheriff to apologize to my family for killing their dog."
The sheriff's department is supposed to be investigating but so far the Myers haven't heard anything.
Oh, and on a sidenote, deputies did arrest the man named in the warrant Monday morning on felony gun and drug charges.
Source – WJLA
Email This Post
Like this post? Subscribe to my RSS feed and get loads more!