Arrests and Charges in the $15K Dog Reward Case
Thursday, February 21st, 2008 at 7:43 am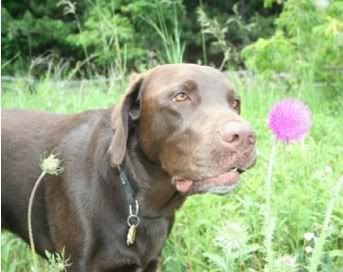 The man who returned Huckleberry, Bert Clark's missing 3 1/2 year old chocolate lab who went missing Saturday, got his reward but he also got something else too, arrested and charged.
Richard Cassibo, 54, and Andrew Footit, 31, were arrested and between the two, 9 charges were laid against them;Conspiracy to Commit Indictable Offense, Corruptly Taking Reward for Recovery of Goods, Possession of Property Obtained by Crime, Attempt Fraud Over, Richard Cassibo is additionally charged with Public Mischief.
Bert Clark may have promised a 'no questions asked' reward but that said nothing about the police and it looks like they had a lot of questions.
"When he's offering a reward, there are considerations for his safety. That is a substantial amount of money," Detective Rob Ermacora said. The $15,000 reward was paid as promised. Mr. Cassibo said he returned Huckleberry on behalf of two people who found the dog tied to a park bench, shivering. He told Global News he did not trust the Humane Society, and had planned on putting up flyers to find the owner. When asked why he accepted the reward instead of refusing the money, he said, "It's just I could have used it too."
Police are also looking for two youths in connection the the case. "They know who they are and we certainly know who they are and we encourage them to speak with their lawyers and turn themselves in," Det. Ermacora said.
And the reward? Mr. Clark got his money back and "was surprised but happy it all worked out," when he learned of the arrests Tuesday evening.
Looks like maybe the good Samaritan was so good after all….
Source – National Post
Email This Post
Like this post? Subscribe to my RSS feed and get loads more!