'Bad Boy' Dog Without Hope Gets a Second Chance
Wednesday, June 20th, 2007 at 9:39 am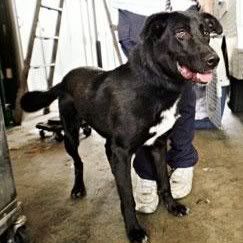 Nelly, a 1 1/2 yr old. 65 lb, lab/shepherd, was dumped off at the Oakland Animal Shelter over a year ago. He's basically been deemed unadoptable because he drags staff members when they walk him, barks incessantly for attention and tackles people who greet him. Sadly, Nelly is the kind of dog that doesn't make a good pet, is considered good for nothing and is usually put to sleep.
But some of the animal control officers saw something in Nelly and were determined to find a way to keep him alive. In comes Chick Gardner, director of Gap Dogs, an organization that trains search-and-rescue dogs. Gardner started his dog placement program in 2003 and has since placed more than 800 dogs with programs and agencies such as the Federal Emergency Management Agency.
Gardner said of Nelly, "This is the kind of dog that digs up Mrs. Riley's garden, destroys her furniture. This dog is just crazy, it's absolutely nuts. And we say, 'This is exactly the kind of dog we're looking for."
Gardner loves turning 'bad dogs' into rescue dogs. "It jumps on the counter top, that's a good thing. It's aggressive toward other dogs, that's lovely. It tears things up, that's great," Gardner said.
Staff at the animal shelter tested Nelly so Gardner would know how bold he was. They threw balls deep into thick bushes, and he retrieved them every time. They put him 10 feet away from a moving train, and he didn't back away.

When Gardner saw the videotapes of the tests, he knew Nelly was a rare find.

"When she showed us the video of how aggressive and compulsive this dog was, I thought, we've got a Gap Dog," Gardner said. "It's kind of like, 'Hey, that's a train going by, never saw one of them.' That's called nerve strength."

Nelly will need nerve strength when he's done with his 18-month training to become a search-and-rescue dog. Gardner's Gap Dogs program will evaluate what Nelly's best at and place him in a program where he could be doing anything from sniffing for bombs to searching for children who have wandered from home, Gardner said.

"We save them, and then they save us," he said. "It's not like it's a pie-in-the-sky sort of thing, these dogs are doing it every single day." (Inside Bay Area)
So yesterday morning Nelly boarded a United Airlines flight out of San Francisco International Airport en route to Dallas to join 'rare clan of dogs that have what it takes to work on search-and-rescue missions.'
Although happy for Nelly's success, staff at the Oakland Animal Shelter will miss their fervor-filled friend.

Animal control officer Scott Valladon spent his past few minutes with Nelly Tuesday morning before sending him to Dallas.

After having spent many lunch breaks and weekends working one-on-one with Nelly, Valladon still had to hurry to lasso Nelly with his leash as soon as he jetted from his kennel.

Nelly pawed Valladon's chest and licked his shirt before pouncing toward others at the shelter.

It's the animal control officers at the Oakland Animal Shelter who gave Nelly a chance to live and serve a purpose, said David Cronin, director of Oakland Animal Services.

The outlook of the staff has changed in the past few years, and animal control officers have been trying harder to find homes for dogs like Nelly who won't be adopted, Cronin said.

"A couple of years ago, Nelly's the kind of dog who would have been put to sleep. But," he said, "there is a home for almost every dog."
What a great ending to a dog's story that could have had a much sadder ending. Now Nelly, the 'bad boy', the hopeless dog, will have a wonderful purpose to his life and will be loved, cherished and appreciated by all those who work with him. Now if only more people would take the time to find that special place where a dog will fit in.  Service dogs are true heros and people who save 'hopeless' dogs are also heros!! Kudos to the Gap Organization and to the Oakland Animal Shelter for never giving up on Nelly!! 😀
Email This Post
Like this post? Subscribe to my RSS feed and get loads more!