Beyond Death, Still Man's Best Friend – VIDEO
Tuesday, April 15th, 2008 at 6:01 am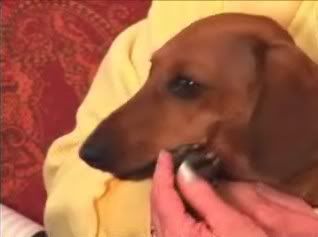 Sam, a little 2 1/2 year old Dachshund, had practically never left his owner, Teddy Crockarell's side from the time he was a puppy. Last Monday Teddy lost his battle to cancer and almost at the exact time that he died, Sam ran away from home, ignoring the invisible fence collar he was wearing, he took off. Teddy's wife, Marcene, believes that Sam knew something was wrong.
After searching for Sam for ,two days to no avail, the Crockarell family arrived at a church on Trenton Road, six miles from their Kimbrough Road home, for Teddy's funeral and were stunned and amazed to find little Sam waiting for them.
Marcene Crockarell said, "He was just shivering and sitting there by the doors. We just lost it and all we were doing was hollering, 'Sam! Sam!' and here he comes and he was just all over all three of us."

There is no way to know what prompted Sam, who had never left home on foot, to run away and end up at a church he'd never seen, but is family has a theory.

"If he walked those six miles he was looking for his papa… but he found him, and that's what's good about this whole situation, he found him and he found his way back here," said Marcene Crockarell's son-in-law Howard. (WKRN)
There's no doubt that dog's are amazing and smart but sometimes some things they do still leave us stunned. Truly, they are man's best friend!
Email This Post
Like this post? Subscribe to my RSS feed and get loads more!