Big Rescue for Tiny Puppy – VIDEO
Thursday, June 12th, 2008 at 8:35 am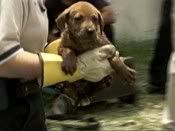 A little puppy caught in a storm drain yesterday in Miami brought out the big guys for a rescue operation.
When someone saw a dog whimpering and whining by a storm drain yesterday morning, a little investigation found a puppy wedged deep in a drain pipe at NW 75th Street and 6th Avenue in Liberty City. Out come Miami-Dade Rescue crews!
It's heartwarming to see such efforts expended to save a tiny life of a puppy and they did expend some effort.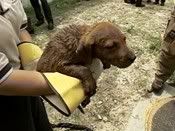 Responding rescue crews donned air tanks and masks and went down into the sewer drain in search of the tiny stuck puppy. Animal control officials were also on hand to help and stood by along with the pup's worried mother who watched and waited for her puppy to be freed.

After two hours of intensive work, one of the firefighters finally surfaced shortly before noon with the wet little dog in his arms.

Animal control officials reunited mother and pup but that reunion may not last very long. Both are being shipped to the Miami-Dade County Animal Shelter. Fortunately, the puppy will be adopted by the Miami Fire-Rescue dispatcher who took the call for help but the mother dog needs someone to adopt her or else her future looks bleak.

If you are interested in adopting the mother dog, please contact the Miami-Dade County Animal Shelter, located at 7401 NW 74th Street, at (305) 884-1101. (CBS4)
Aw, doncha just love a happy ending?! Hopefully there will be a happy ending for the momma dog as well and not just her baby.
Email This Post
Like this post? Subscribe to my RSS feed and get loads more!