Bilbo, Lifeguard Dog, Finally Reinstated
Monday, March 30th, 2009 at 7:03 am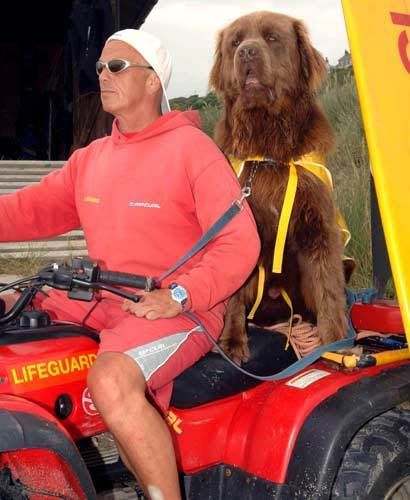 Last May, Bilbo, an almost 200-lb 7-year-old Newfoundland, was banned from the beach in Sennen, near Land's End in Cornwall, UK. Now Bilbo is not just a dog, he is a lifesaver, credited with saving at least three lives and lifeguard who had to pass fitness and swimming tests before he could join the beach patrol, wore a lifeguard's vest which carried a number of safety messages on it, warning swimmers about the dangerous areas. He's trained to swim around struggling bathers and after they grab the float fixed to his harness he paddles to safety.
But RNLI, Royal National Lifeboat Institution, which had then been contracted to provide lifeguard services, banned Bilbo under a "no dogs allowed" rule on the beach.
A spokesperson for RNLI said, "The RNLI is contracted to provide a professional lifeguarding service on the beach and has fully trained lifeguards to do this. "Bilbo is a privately-owned dog and does not belong to the RNLI. The RNLI will not be using the dog to save lives at sea."
"We can't employ a dog as a guard. They are banned from the beach," and added, "He would fail the resuscitation test."
Well, this ruling didn't sit well with a lot of people, including Bilbo's owner, 54 yr old Steve Jamieson, head lifeguard at the beach.
Shortly after the announcement there was tremendous public support, petitions and campaigns, phone calls and support country-wide for Bilbo to be returned to his post and Jamieson was in talks with RNLI.
"I'm delighted because there were so many people who were really upset. Bilbo's popularity is absolutely huge."
He added: "The public pressure has been beyond anything I'd ever expected. People got so enraged by the whole thing that it all came to light."
And now finally, after almost a year, after more than 10,000 petition signatures, over 2000 signature on the website and a Facebook of 7000 strong rallied to get Bilbo back, Bilbo has been officially reinstated!  He has been classed as an official working dog, thus getting by the dog ban and will be back on patrol for the summer season.
And yesterday, to the delight of his supporters across the world, it was confirmed that Bilbo had prevailed and would now be allowed to return to Sennen beach and others where he is credited with having directly taken part in at least three rescues as well as indirectly saving scores more from getting into difficulties.

His owner Steve Jamieson, who at 57 is Britain's longest-serving lifeguard and now area supervisor for the RNLI, which is responsible for beach safety on the western tip of Cornwall, said he was delighted at the decision.

"The people not just in Cornwall but the whole of the UK have taken Bilbo to their hearts and, in the end, something had to be done about it. The council and the RNLI have done a stalwart job while Bilbo is ecstatic that he will be able to get back on the beach," he said. (The Independent)
Wow! Just amazing! No surprise that Bilbo was so amazing at his job, Newfies are almost custom made for this kind of work but this level of support is just amazing. I am so happy that they got their Bilbo back and know that people will be flocking to the beach to welcome him.
Go Bilbo!!
Email This Post
Like this post? Subscribe to my RSS feed and get loads more!